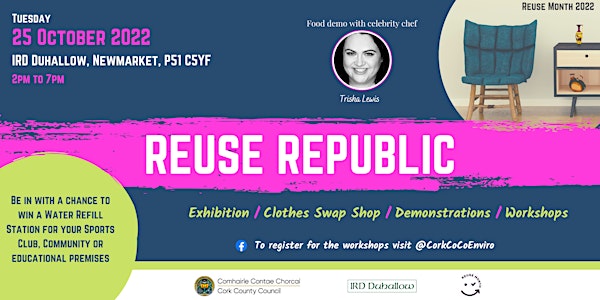 Reuse Republic Event 2022
An exhibition to showcase how individuals and communities can take action to reduce their consumption and positively impact climate.
When and where
Location
IRD Duhallow James O'Keeffe Institute P51 C5YF Newmarket Ireland
About this event
Taking place during National Reuse Month, the event will bring together national and local reuse initiatives to exhibit their services and showcase how individuals and communities can take action to reduce their consumption and positively impact climate.
An exciting series of workshops themed around reuse and waste prevention including furniture upcycling, composting and reducing single use plastic will take place on the day. The exhibition aims to empower local homes, community groups and businesses to move away from a throw away and single use society and to bring reuse into their daily lives.
As Ireland has committed to reduce food waste by 50% by 2030, in line with the United Nations (UN) Sustainable Development Goals (SDG's), food waste is set to be a core theme of the event. Cork celebrity chef Trisha Lewis, known on Instagram for Trisha's Transformation, will be doing a cooking demonstration on the day to show innovative ways of reducing food waste when cooking meals at home.
Amongst the exhibitors, ReCreate Ireland will host a workshop on sustainable creativity in arts and crafts, reusing materials that would have otherwise gone to waste. Early years groups including creches, pre schools and primary schools are encouraged to come along to take part.
Circular Fashion Ireland will also host a talk on the impact of fast fashion, making more sustainable fashion choices and will be running a clothing Swap Shop, where members of the public are invited to bring their lightly worn clothes to swap for other items.
Businesses are also encouraged to attend to hear about the commercial waste campaign and how they can avail of free signage for waste segregation systems on their premises. The Southern Regional Waste Management Office will be in attendance to explain how businesses can access the materials. Other exhibitors on the day will include FoodCloud, Stop Food Waste, Composting Ireland, Peach Vintage Preloved, Sue Gifford Design, Handmade by Kata, the Rediscovery Centre and Community Reuse Network Ireland. If you are interested in exhibiting, please contact eao@corkcococo.ie
To mark the occasion, a competition will be held on the day to give sports clubs, community groups and schools a chance to win a Water Refill Station worth over €1,500 for their premises, to help them eliminate single use plastic in their communities. Only applications received on the day of the event will be accepted so everyone is encouraged to come along on the day to take part.
To secure a place for the workshops and demonstrations which will be running throughout the event, we recommend you book these in advance by clicking REGISTER above.
Keep up to date on the latest updates on the event and news from Cork County Council's Environment Department at our Facebook page.