This 1 hour webinar will enhance your confidence by teaching you how to build trust at speed with others, and silencing your inner critic.
About this Event
Trust and Authenticity are essential in all professional services businesses and in any business where staff are client-facing or representing their company. There's nothing more impactful on people, their work, and their performance than trust. It's regarded as the most beneficial fundamental currency of a business and is an essential part of all relationships.
Having confidence in yourself and your abilities will build internal trust in yourself and trust at speed with those around you.
Several surveys of professionals divulge that they felt to be missing key skills which they need to progress such as:
Self-belief and Confidence
Executive Profile & Presence
Personal Brand
Influence
Resilience
By the end of this webinar (co-hosted by Lisa Nolan of Aslan Coaching and Maria Macklin of House of Colour) you will:
- Understand the relationship between trust and confidence.
- Understand the physiology of trust and distrust.
- Be introduced to the importance of personal brand.
- Gain insight into your inner critic and how to silence it.
- See what magic happens when you push yourself out of your comfort zone.
- Begin your journey to achieving inner and outer confidence so you will feel unstoppable!
We are confident that you will learn a lot about yourself by joining this webinar. It is a taster of our highly sought after 1:1 bespoke Reveal the Best You Programme in which our clients learn to be:
Resilient
Empowered
Visible
Effective
Authentic
Leaders
More information about that programme can be found on our dedicated webpage
Looking forward to helping you shine!
Lisa and Maria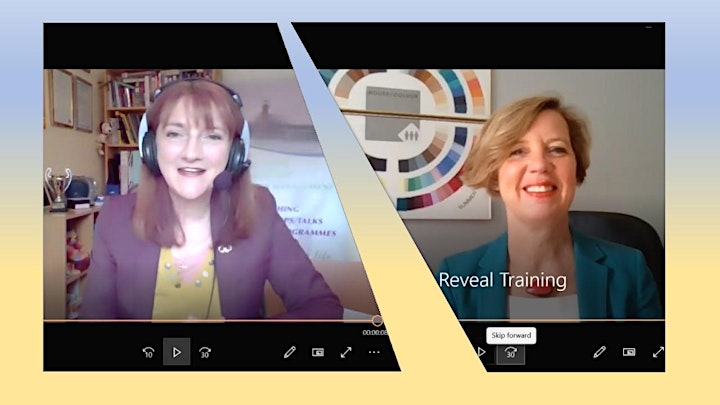 Meet your course instructors: Lisa Nolan and Maria Macklin
Lisa Nolan is a professional coach and trainer who works with professionals, executives and business owners to build their leadership skills, confidence and resilience so that they will achieve success without burning out.
Having first qualified as a general nurse and subsequently as a midwife, Lisa has worked in a diverse range of clinical settings including Beaumont Hospital Dublin, street clinics in Calcutta, King Edward VII Hospital and the Royal Marsden Clinic in London, and GP practices in Dublin. A move to the administrative side of healthcare included roles in the Blackrock Clinic, Lowell House, and the Irish Practice Nurses Association where she managed a successful application for charitable tax exemption, drafted governance policies for Board to approve, mentored rotating Board Members in their new roles and responsibilities, and coordinated clinical awards and bursaries. She built a successful Virtual Assistance business before going on to qualify as a Business, Executive and Personal Coach, and later completing Train the Trainer.
Lisa's coaching practice is underpinned by her nursing background and knowledge of how physical and mental health is woven into every aspect of our personal and working lives. She helps her clients recognise and manage stress, ground themselves and their leadership practices in their core values, and design and implement meaningful changes that are embedded so that they will last long after the coaching process has ended. She works with her clients to develop their personal resilience using their own physiology, research-based coaching techniques and evidence from studies in neuroscience. She uses various coaching models, including Micro-Resilience (proven, research-based tools and rejuvenating behaviours that take seconds to implement and lead to immediate results), Co-Active Coaching, the Five Levels of Leadership, Conversational Intelligence, and others. Her approach throughout her past nursing career and in her coaching practice now is one of 'unconditional positive regard' for her clients (ref: Carl Rogers).
She is on several coaching panels in private, semi-state and cross-border bodies in Ireland. Her R.E.A.L. Leadership 4 week online programme is accredited by the CPD Standards Office for 7 CPD points. She gives talks and workshops on resilience to community and patient groups, business teams, at seminars and networking meetings. She co-facilitates peer group coaching supervision sessions with coach colleagues, is currently Vice-President of the BNI Rossmore Chapter and is on the Leadership Team of the BNI North East and Dublin region, serving as Orientation Director Consultant. She is a Certified Just Culture Champion. She has contributed to nursing and medical journals, websites and blogs, writing about interventions that enhance health literacy. Her core values are dignity throughout life, non-judgement and compassion.
_________________________________________________________________________________________
Maria Macklin is an award-winning Image Consultant with House of Colour helping people to discover their personal brand. For 16 years she worked in various roles for a multinational, professional services company where, through marketing, she helped unlock the potential of brands, products and services; yet for much of that time, she felt invisible. The day she heard about House of Colour was the day she learnt how to transform herself and almost immediately began earning promotions. By the time she was a senior marketing manager she knew she wanted to help others access those incredible insights.
She believes having the secret to confidence in ourselves is transformative, and available to everyone; it lies in people knowing who you are, valuing yourself, feeling valued and showing that to the world. Through training, positive encouragement and structure, she supports people so they too can flourish - it's no less than we all deserve.
Since March 2014, when she set up her franchise, she has contributed widely to media publications, including The Irish Times, The Irish Independent, The Farmer's Journal, RTE Lifestyle online, Evoke.ie, The Daily Slog, Women Mean Business and ICA Living & Home. She has appeared on Virgin Media TV with Elaine, on The Ryan Tubridy show and is a regular contributor to LMFM radio on the Sinead Brassil show.
House of Colour, the world leading franchise group in Image for Personal Brand, provides the foundation for her ongoing commitment to growth through training and development. A certified provider of training excellence, House of Colour is the only Image Consulting business to hold the Investors in People Gold Level award for services to clients.