**Programme is Full** Please email lmarren.flourish@thefamilycentre.com to be put on a waiting list
About this event
**Programme is Full**
Please email lmarren.flourish@thefamilycentre.com to be put on a waiting list and for further enquiries around Flourish.
Flourish, in collaboration with the Mayo Mental Health Association are delighted to offer a 4-week programme to build a toolkit for maintaining wellbeing as we come out of lockdown.
We are all facing challenging times now, and it is inevitable that we will continue to experience challenging times as we emerge from lockdown and facing into a "new normal". Therefore, it is important that we look as some of the knowledge and skills which we can learn and develop to positively adapt to changing, uncertain circumstances and focus on what matters most to you.
Session 1: Fears & Thoughts
Session 2: Values & Resilience
Session 3: Be in the here and now
Session 4: Action
Dates: Monday 27th September, 4th October, 11th October, 18th October
Time: 2-4PM
Venue: Curám Centre, Claremorris
Booking: Via Eventbrite or phoning the Family Centre on 094 9052900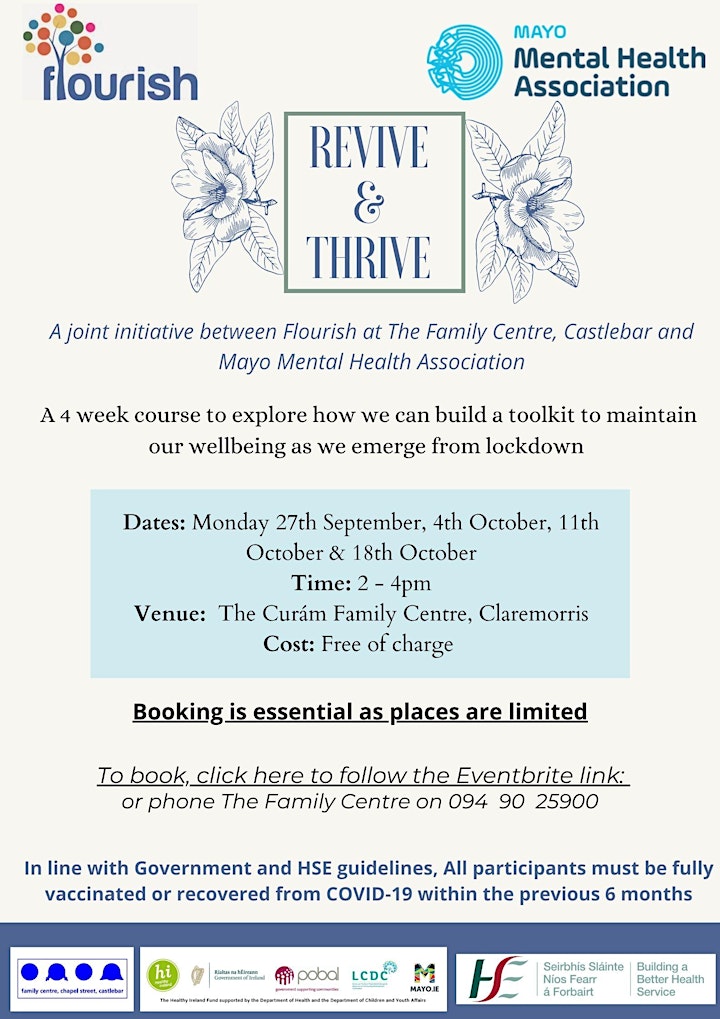 Organiser of Revive and Thrive