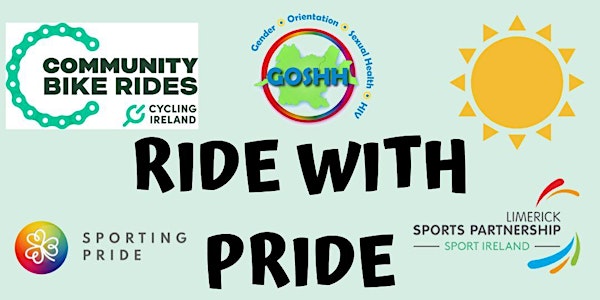 Ride with Pride - Limerick Greenway Cycle for LGBTI+ Community
GOSHH & Sporting Pride are delighted to invite you to a Ride with Pride along the Limerick Greenway!
When and where
Location
Limerick Greenway Bike Hire Limerick Greenway Bike Hire Rathkeale Ireland
About this event
LGBTI+ Community members from across the Midwest and further afield are invited to sign up for this cycle from Rathkeale to Abbeyfeale - a 37km distance on the Limerick Greenway. This link is specifically for those of you who want to avail of the discounted bike hire - €10 per bike, reduced from €30*.
ALL CYCLISTS must register for free via the Community Bike Rides link below, regardless of whether you are renting a bike or bringing your own. There are two links available - you can register at either link as we will all be going together anyways.
Bike Ride Link 1: https://www.communitybikerides.ie/rides/pride_ride_g160po12og
Bike Ride Link 2: https://www.communitybikerides.ie/rides/ride_with_pride_limerick_y50e3w87s6
*Please note - you will not be able to avail of the discount on the day - pre booking essential. If you are bringing your own bike you must also bring a helmet - this is mandatory for everyone.
We will meet at the Limerick Greenway Bike Hire Shop in Rathkeale at 9.45am on Saturday August 20. The group will stop for a break along the way and will regroup in Abbeyfeale for coffee & cake/lunch at Gourmet Green. Participants have the option of getting the bus back to Rathkeale at a cost of €10 per person, payable on the day at the bike hire shop. The bus returns to Rathkeale at 1pm and 3pm. You can cycle back if fitness levels allow.
37km is a long enough cycle so you will need some level of fitness to take part as well as snacks and water for the journey.
This event is open to adults 18+.
If you have any questions please contact communitydev@goshh.ie
With thanks to the Limerick Sports Partnership & Cycling Ireland's Community Bike Rides programme.