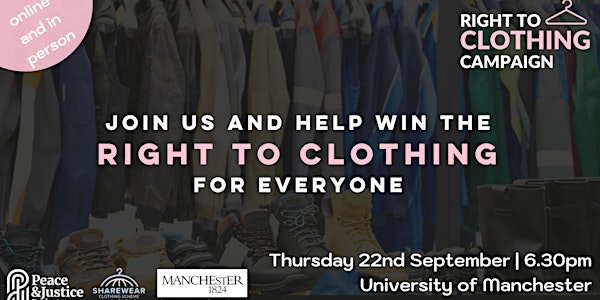 Right to Clothing Campaign Launch
The Right to Clothing Campaign aims to end clothing deprivation and ensure everyone has access to high quality, affordable clothes
By University of Manchester School of Social Sciences
Date and time
Thu, 22 Sep 2022 18:30 - 20:30 BST
Location
Roscoe Building, Theatre B University of Manchester Oxford Road Manchester M13 9PL United Kingdom
About this event
Clothing deprivation, as a result of poverty, is a large and growing problem in the UK and around the world. As politicians, media commentators and everyone else talks about the cost of living crisis in relation to food and heating, many often forget about another basic necessity: clothing.
Increasingly, individuals are deprived of adequate clothing. This is despite the fact that all human beings have a right to adequate clothing. A right that has long been recognised both in international treaties and by the States bound by those treaties. By reasserting the right to clothing, not only will we be able to make adequate clothing more accessible and affordable, but through reducing clothing waste there will be a positive environmental impact.
That's why on September 22nd, we're launching the Right to Clothing campaign to raise awareness of clothing deprivation and bring about a change in the law which better protects the right to clothing, and thus ensure that charity is not required for any individual to access adequate clothing.
Founded by Sharewear UK and Peace and Justice Project and working with Dr. Luke D. Graham at the University of Manchester the campaign will also work with charities, campaigns, trade unions and others who want to end clothing deprivation through the Right to Clothing Network, which you can find out more about at the launch or on the website here.
Speakers:
• Dr Louise Cooke (Sharewear UK)
• Dr Luke D. Graham (University of Manchester)
• Jeremy Corbyn MP (Peace and Justice Project)
If you're not coming physically to the event, you don't need a ticket and you can watch the livestream on here: www.righttoclothing.org/launch