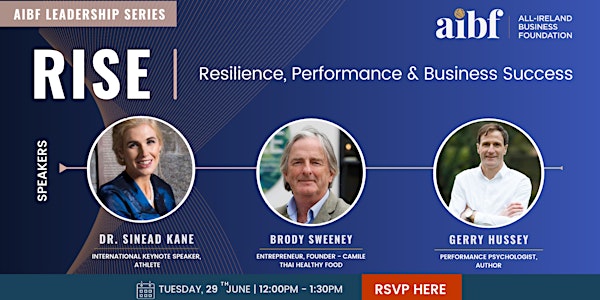 RISE: Resilience, Performance & Business Success
RISE: Resilience, Performance & Business Success
About this event
Join us on Tuesday, June 29th, 12.00 p𝗺 for a Leadership Series with Gerry Hussey, Dr. Sinead Kane & Brody Sweeney.
The last year in particular has been one of constant change where we were all pushed outside of our comfort zone. We have had to navigate this change, build resilience and avoid being distracted by all that was outside of our control.
AIBF are delighted to bring you this session where.we will hear from top performers on how to navigate change, build resilience & perform beyond your comfort zone.
𝐑𝐒𝐕𝐏 𝐡𝐞𝐫𝐞👉https://aibf.ie/rise
Some highlights of the topics which our speakers will be addressing:
Increasing Your Courage And Resilience.
Overcoming the Disease of Distraction.
Navigating the pressures of work, stress & anxiety.
Performing Beyond your Comfort Zone and Build Inner Resilience.
Real life lessons in business
About Gerry Hussey:
​Gerry is a performance psychologist and also in more recent times been coined 'The Soul Coach'. He has been in the human health and performance Field for almost 20 years. Gerry has been at the forefront of building high performance teams and individuals in Olympic and Professional, sport and corporate organisations. His vast experience has seen him prepare and lead teams for success at Olympic Games, Heineken cups, World cups, and World and European championships.
He has worked and currently works with some of the world's leading sport and business teams as well as coaching for high performing individuals. He is a leading voice that is challenging us to rethink health and performance in a whole new way and his integrated approach is one of honesty, simplicity and authenticity.
About Dr. Sinead Kane:
Sinead doesn't let her disability hold her back and is living life to the full. Within the space of three months Sinead Kane was awarded two PhD doctorates. In October 2017, she received an honorary PhD from the National University of Ireland. In December 2017, she was awarded her academic PhD from Dublin City University. Sinead also is a double Guinness World Record Holder. In February 2018 she broke the Guinness World Record for furthest distance for a female on a treadmill in 12 hours.
Sinead and her guide runner [John] completed their first Marathon of this challenge at Union Glacier, Antarctica followed by running a Marathon in Punta Arenas (South America), Miami (North America), Madrid (Europe), Marrakech (Africa), Dubai (Asia) and finally Sydney (Oceania).
About Brody Sweeney:
Brody is founder and Chief Executive of Camile Thai Kitchen – a gourmet restaurant delivery business that he set up in response to changing eating habits, brought about by increased use of the internet at home. Camile Thai Kitchen has nearly 40 stores based across Ireland and the UK.
Brody is an experienced and well known entrepreneur with a successful career spanning over 25 years, with a good understanding of the highly regulated food and gaming industries – and with a track record in retail, franchising, gaming, online, C.S.R and the food industry. Today, as Founder of Camile Thai, he is leveraging tech to create a new genre of convenience dining.