Event Information
Location
The Salmon Bookshop & Literary Centre
9 Parliament Street
Ennistimon
Ireland
'Rites and Rituals in Pre-Christian Medicine' - Dr. Darragh Stewart + Branwen
About this event
Idir Dhá Thrá is an explorative series of music/talks/performances/lectures which responds to the cultural, social and geographical area of North Clare. The events shall take place in the unique setting of the al fresco (outdoors) courtyard garden behind the Salmon Bookshop in Ennistymon. The series will bring together an interesting and collaborative collection of artists, storytellers, lecturers, musicians and poets who will each share from their field of expertise and experience on topics which will resonate with the local communities in North Clare. These series of events are supported by The Department of Tourism, Culture, Arts, Gaeltacht, Sport and Media and the Clare Arts.
For our final seminar in the series, we are delighted to host a talk with Dr. Darragh Stewart. Dr Darragh Stewart (Phd) is the co-founder of Inwardbound. In his early-twenties, Darragh reached a turning point in his life. Due to the death of his grandmother, the ending of a long-term relationship, and the immense pressure of his University studies, he had a mental breakdown. He suffered from bouts of depression, anxiety, and a general dissatisfaction with how he was living his life. These problems sent him on a quest to find inner healing, truth, and a new way of being in the world.
During the rest of his twenties, he had a life-changing break-through both mentally and spiritually, with the aid of psychedelic medicines, breathwork, and the power of holistic healing. Having found the power of bodywork for emotional release during this time, he was awarded his VTCT diploma in Holistic massage therapy.
As a scientist, he is keen to cut through faux spirituality and is interested in bridging the gap between science and spirituality. Having had such a positive journey with Psychedelics he is now passionate about helping others who may also benefit from the emerging science of psychedelics by holding the retreats and collecting scientific data. He has worked with over 100 people through their psilocybin sessions and is currently writing a paper on the effects of Psilocybin on mental health.
He has also been on trips to India immersing himself in different trauma release modalities such as somatic bodywork, breathwork, embodiment dance practices, and yoga. He is also a keen meditator having sat at the Tushita Meditation center Dharamsala, and the S.N. Goenka Vipassana Center, Bodh Gaya.
He is also passionate about working with Men through times of struggle and change. He facilitates men's online workshops, events, and a men's group for psychedelic integration in Ireland.
Local musician Branwen will also be performing live at the event. Branwen is a musician and performance artist who was raised on a diet of salty sea air and sideways rain in the West of Ireland. She is a self proclaimed imaginary horse enthusiast.
Her work is imagination centric and is inspired by mythology and folklore from home and around the world. She finished her first solo album in 2019, a collaboration with renowned Bass Clarinettist, Deirdre O'Leary and the incredible stings of Nicholas Cooper. The Album was released in New Orleans in April followed by an Irish release and tour with her band in May. She toured in Ireland and the UK in Autumn/Winter 2019 as well as playing a number of dates in Europe and at some Irish festivals in the Summer.
As an award nominated performance artist, (RDS Graduate Award 2017) sculptor, puppeteer, writer of surreal visual plays and a lively adventurer she gathers many of these strands together in her live performances. Her live show involves an array of unmusical objects employed as instruments, as well as actual instruments including loop pedals, banjo and guitar.
All Idir Dhá Thrá events will be held outdoors and everyone in attendance is reminded to abide by the Covid restrictions currently in place.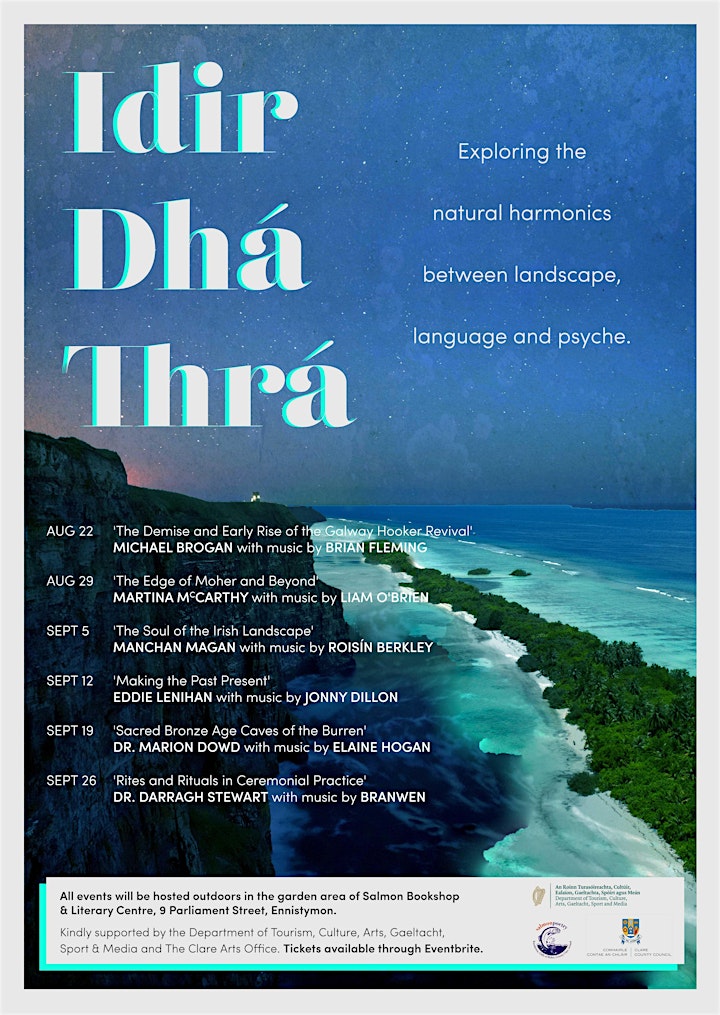 Date and time
Location
The Salmon Bookshop & Literary Centre
9 Parliament Street
Ennistimon
Ireland