Looks like this event has already ended.
Check out upcoming events by this organiser, or organise your very own event.
Roberto Viola on HPC and Competitiveness in Ireland and the EU

Wednesday, 30 November 2016 from 17:15 to 19:45 (GMT)
Event Details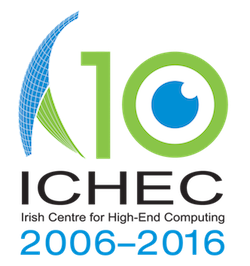 In celebration of the Irish Centre for High-End Computing's 10th Anniversary, you are cordially invited to attend "Roberto Viola on HPC and Competitiveness in Ireland and Europe", an evening of discussion on the impact and importance of High Performance Computing for competitiveness in Ireland and across Europe.
Featuring a keynote speech from Mr. Roberto Viola, Director General of DG CONNECT at the European Commission and a panel of distinguished experts, chaired by Prof. Martin Curley of Maynooth University, it promises to be an engaging evening of discussion and debate.
---

Agenda


17:15 - 18:00

   


Registration and Light Refreshments


18:00 - 18:10
 

 

Welcome & Introductions
Prof. J-C Desplat, ICHEC Diretctor

18:10 - 18:40
 

 

Keynote Address
Roberto Viola, Director General of DG Connect

18:40 - 19:40
 

 

Panel Discussion
Chaired by Prof. Martin Curley, Maynooth University

19:40 - 19:45

 

Closing Remarks
---

Panellists


Roberto Viola
European Commission
Director General of DG Connect

Roberto Viola is the Director General of DG CONNECT (Directorate General of Communication, Networks, Content and Technology) at the European Commission; he was Deputy Director General from 2012 to 2015.
    He served as Chairman of the European Radio Spectrum Policy group (RSPG) from 2012 to 2013, as Deputy Chairman in 2011 and Chairman in 2010. He was a member of the BEREC Board (Body of European Telecom Regulators), and Chairman of the European Regulatory Group (ERG) in 2007. He held the position of Secretary General in charge of managing AGCOM, from 2005 to 2012. Prior to this, he served as Director of Regulation Department and Technical Director in AGCOM from 1999 to 2004. From 1985-1999 he served in various positions including as Head of Telecommunication and Broadcasting Satellite Services at the European Space Agency (ESA).
    Roberto Viola holds a Doctorate in Electronic Engineering and a Masters in Business Administration (MBA).


Sarah Bourke
Skytek
CEO & Co-founder

Dr Sarah Bourke is Chief Executive and co-founder of Skytek Limited. She deals on a day-to-day basis with leading research organisations such as the European Space Agency and NASA. Currently, in her capacity as CEO she is overseeing significant expansion in the Skytek brand.
    Dr Sarah Bourke is a PhD graduate of Trinity College Dublin. She is also a qualified accountant. Bourke worked at leading universities and governmental agencies in Ireland before co-founding Skytek Limited.


Marc Carrel-Billiard
Accenture Technology R&D
Global Managing Director

Marc Carrel-Billiard is the Global Managing Director of Technology R&D at Accenture. In this role, he oversees the Accenture Technology Labs, Accenture Open Innovation, and he directs Accenture's annual Technology Vision research, which looks at the future of enterprise IT.
    Marc has been with Accenture for more than 18 years and has worked across all the five industries we serve. Before taking on leadership of Technology R&D, Marc was the global lead for Emerging Technology in Accenture. He has held several global leadership roles within Accenture's technology group, including within Application Portfolio Optimization and SOA/ Integration Architecture. He has worked across several cutting-edge areas of IT including voice recognition, knowledge-based systems and neural networks.
    Marc is one of a select group of Accenture certified Master Technology Architects, and is also a Solution Architect and Select Quality Assurance director. He has broad software engineering and delivery experience, particularly in areas such as component and object-oriented technologies.
    Before joining Accenture in 1998, Marc was part of IBM Global Services where he published several articles and books on C++ and Java programming with Prentice Hall. Marc currently is based in Accenture's Technology Labs in Sophia Antipolis, France. He lives in Vence, France with his wife and his passions include photography and trekking.


Leo Clancy
IDA Ireland
Head of Technology, Consumer & Business Services

Leo Clancy is IDA Ireland's Head of Technology, Consumer & Business Services. IDA Ireland is the Irish Governments agency responsible for Foreign Direct Investment (FDI). His client portfolio includes 9 of the Top 10 Technology companies in the world.
    Prior to joining IDA in May 2013, Leo spent 17 years in the telecommunications industry where he held a number of engineering and management roles. His previous positon was with e|net, an Irish regional fibre network provider, where he led the technology function. Leo also worked for 13 years at Ericsson, primarily within Global Services and on leading edge mobile network rollout.
    Leo holds a degree in Electrical / Electronic Engineering and a diploma in Electronics & Telecommunications.


Martin Curley
Maynooth University
Director of the Innovation Value Institute

Martin is founder and co-director of the Innovation Value Institute, a broad industry-academic open innovation research consortium and he is Professor of Innovation at Maynooth University. He is the chair of the EU Open Innovation and Strategy Policy group which is driving the further development and adoption of the Open Innovation paradigms in Europe. He is a member of various advisory boards including the EU CAF and the Smart London Board.
    Previously he was vice president at Intel Corporation and director of Intel Labs Europe, the company's network of more than 40 research labs, development centers and open innovation collaborations in the European region. He also served as a senior principal engineer at Intel Labs Europe. Curley lead Intel's research and innovation engagement with the European Commission and the broader European Union research ecosystem. Previously Curley was global director of IT innovation at Intel. Earlier in his Intel career, he held a number of senior positions for Intel in the United States and Europe. Before joining Intel in 1992, he held management and research positions at General Electric in Ireland and at Philips Electronics in the Netherlands.
    Curley is the author of several books on technology management for value, innovation and entrepreneurship. He is a Member of the Royal Irish Academy, fellow of the Institution of Engineers of Ireland, the British Computer Society and, the Irish Computer Society.
    Curley has a bachelor's degree in electronic engineering and a master's degree in business studies, both from University College Dublin, Ireland. He earned his Ph.D. in information systems from the National University of Ireland, Maynooth. He was previously a visiting scholar at MIT Sloan Centre for Information Systems Research.


JC Desplat
Irish Centre for High-End Computing
Director of ICHEC, Professor of Computational Science at DIAS

Jean-Christophe "JC" Desplat is a technology expert with over 25 years' experience in high-performance computing (HPC). His particular interest lies in the innovative use of HPC technologies in emerging domains. He has served as advisor to a number of committees in Ireland and abroad, including the strategic advisory team of the UK Engineering and Physical Sciences Research Council (EPSRC), the ICT sub-committee of the Irish Medical Council, the Climate Change Research Co-ordination Committee of the Irish Environmental Protection Agency (EPA) as well as the scientific board and the infrastructure advisory board of the IT for Innovations national centre in the Czech Republic.
    His professional career started in 1995 at the Edinburgh Parallel Computing Centre (EPCC) in the UK, one of the world's leading HPC Centres. He then moved to Ireland in 2005 to help set up Ireland's first national HPC centre, the Irish Centre for High-End Computing (ICHEC), where he has been director since 2012.
    He is honorary professor of computational science at the Dublin Institute for Advanced Studies and adjunct professor in the School of Physics at NUI Galway.


Mark Parsons
EPCC at the University of Edinburgh
Professor of High Performance Computing & Associate Dean for e-Research at University of Edinburgh, Director of EPCC

Professor Mark Parsons joined EPCC, the supercomputing centre at The University of Edinburgh, in 1994 as a software developer working on several industrial contracts. This followed a PhD in Particle Physics undertaken on the LEP accelerator at CERN in Geneva. In 1997 he became the Centre's Commercial Manager and subsequently its Commercial Director. Today he is EPCC's Director and the Associate Dean for e-Research at Edinburgh. He was appointed to a Personal Chair in High Performance Computing in 2013.
    He has many interests in High Performance Computing (HPC) ranging from its industrial use to the provision of pan-European HPC services through the PRACE Research Infrastructure where he leads the UK's involvement in the implementation projects.
    He has worked with SMEs to introduce them to HPC throughout his career. In this regard, he currently leads the EC's €34m FORTISSIMO projects which are introducing HPC and Data Analytics to manufacturing SMEs across Europe and are a key part of the Factories of the Future programme.
    He is also involved in Exascale research and is the project coordinator of the NEXTGenIO project, which is designing and building a new European supercomputer system using next generation memory technologies.


Isabella Weger
European Centre for Medium-Range Weather Forecasts (ECMWF)
Deputy Director of Computing

Isabella Weger is Deputy Director of Computing at the European Centre for Medium-Range Weather Forecasts (ECMWF), an international organisation that is both a research institution and an operational centre producing world-leading global medium-range weather forecasts.
    She has more than 25 years of experience in high-performance computing (HPC). She joined ECMWF in 2005 to lead the centre's computing services, which include a leading HPC facility and a multi-petabyte data archive. The facilities are mission-critical for ECMWF's research and 24/7 operational production of weather forecasts. ECMWF's archive holds the world's largest collection of meteorological data and is used by scientists world-wide for their research in numerical weather prediction and climate change.
    Throughout her professional career, Isabella Weger's focus has been on delivering HPC in science and technology environments. From 2000 to 2005 she was Director of IT Services at the University of Graz in Austria. Prior to this, she held various technical and management positions at Graz University of Technology (TU Graz), Austria, where was in charge of the university's HPC infrastructure and services from 1988 onwards. She holds a degree in technical mathematics/computer science from Graz University of Technology.


When & Where

The Royal Irish Academy
19 Dawson Street
D02 HH58 Dublin
Ireland


Wednesday, 30 November 2016 from 17:15 to 19:45 (GMT)
Add to my calendar
Organiser
ICHEC is Ireland's national centre for high-performance computing, with expertise in the exploitation of next generation compute platforms. The centre operates the national High-Performance Computing service for academia and through industrial R&D collaboration helps bring the benefits of high-performance computing to business and industry. ICHEC is partly funded by the Irish State through the Department of Jobs, Enterprise & Innovation and the Department of Education & Skills. It is hosted by NUI Galway, with offices in Dublin and Galway.