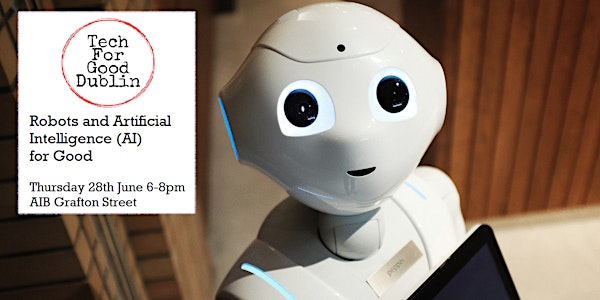 Robots and AI for Good
By Tech for Good Dublin (Mairin Murray and Ellen Ward)
Date and time
Thu, 28 Jun 2018 18:00 - 20:00 IST
Location
AIB Bank 101 Grafton Street Dublin 2 Ireland
Description
How can Robots and Artificial Intelligence help humans to live happier, healthier lives, and what are the risks and ethical challenges to consider?
We are happy to announce two amazing speakers for this session which promises to be super interesting. Come along to meet other Tech for Good members, learn from our experts and ask them your questions.
Aphra Kerr from Maynooth University will share some results of a public survey on ethical and social issues related to AI as well as some work on the design of inclusive training and education initiatives to broaden diversity in the tech industry.
Conor McGinn from Trinity College Dublin will explore some of the practical uses of robots and AI in helping older people live independently and show us how Ireland is leading research in this area.
There will be time for questions and discussion after the speakers, as well as free tea/coffee and snacks on.
Dr. Aphra Kerr is Senior Lecturer in Sociology and chair of the MA in Sociology (Internet and Society) at Maynooth University in Ireland. Her current research interests include innovation and diversity in digital games; internet and media policy; the social impact of AI; data politics, data markets and inequality. She is author of Global Games: Production, Circulation and Policy in the Networked Era, Routledge, 2017, and associate editor of The International Encyclopedia of Digital Communication and Society, Wiley-Blackwell, 2015. She is chair of the Communication Policy & Technology section of the International Association for Media and Communications Research (IAMCR). She has worked previously in the Netherlands, the UK and the US. Academic bio at https://www.maynoothuniversity.ie/people/aphra-kerr Tweets @aphrak. Also on LinkedIn.
Dr. Conor McGinn is an Assistant Professor and co-founder of the Robotics And Innovation Lab (RAIL) in Trinity College Dublin. He holds a degree in mechanical engineering and a PhD in robotics. Conor is passionate about robots and has particular interests in robot design, human-robot interaction and artificial intelligence. Dr. McGinn's primary area of research concerns the design and control of service robots. He holds several patents related to the design of robots and his work has been recognised with numerous awards including the Civic Engagement Award (2018), Provost scholarship (2018) and external awards including the Engineers Ireland Technological Innovation of the Year (2015). He collaborates widely with industry and universities in Ireland, Europe, South and North America and Australia.