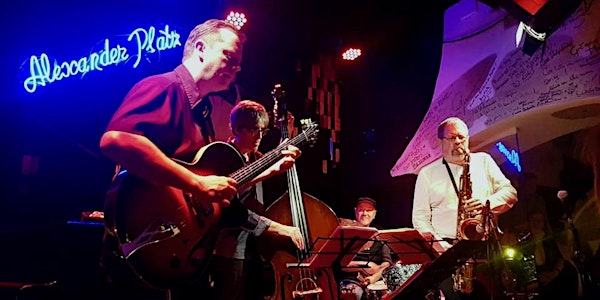 Robson/Levy Quartet
The best of New York jazz club sounds in the heart of Dublin with internationally renowned Robson/Levy Quartet at the Fumbally Stables
When and where
Location
The Fumbally Stables Fumbally Lane Dublin 8 Ireland
About this event
Enjoy the best of New York jazz club sounds in the heart of Dublin with the internationally renowned Robson/Levy Quartet at the Fumbally Stables this September. Co-leaders Phil Robson and Jed Levy distil their years of experience at the top of the American and UK jazz scenes into an expressive, personal, and cohesive sound - memorable melodies and grooves that will get under your skin, an adventurous sense of exploration and kaleidoscopic improvisations to keep you guessing.
UK-born, Roscommon-based guitarist Phil Robson, a 'modern giant' [Peter Bernstein] of jazz guitar, is best known for his work with cult band 'Partisans', and with his partner the great singer/songwriter Christine Tobin. Phil has led projects with legendary artists including Dave Liebman, Mark Turner, & Billy Hart, and over the years has played with everyone from Django Bates to Barbra Streisand
Coming together with saxophonist Jed Levy during his years in New York, the pair mixed their talents in a quartet giving free rein to their most innovative compositions - a contemporary edge tempered with their vast experience across the jazz spectrum. Their rolling melodies and high grooves draw the ear and inspire rich flights of improvisation from the band, bringing the listener to dizzying heights.
As a long-standing figure on the NY jazz scene, Jed Levy has written for a dazzling array of musicians including Charlie Hunter, Eddie Henderson and The Headhunters. His music holds the weight of his years of collaborations with Jaki Byard, Don Patterson, and The Village Vanguard Orchestra amongst others, and he is renowned for his 'appealing blend of logic and invention' [Washington Post].
In this European version of their quartet, Robson & Levy bring together a true musical melting pot, drawing in the experience of Rome-based drummer Roberto Gatto, (known for his work with Chet Baker, Freddy Hubbard & George Coleman amongst others) and US-born, Irish-based bassist Dan Bodwell, a well-known stalwart of the Irish jazz scene, and frequent collaborator with Mary Coughlan, Nigel Mooney and many more.
"This was high-powered jazz, not by dint of frenetic pace, volume or assertiveness but by the beauty and coherence of the quartet sound that was at once polished but fresh and lively. That's a difficult poise to strike, even for musicians as able as these, yet for all that they were fully engaged, each seemed entirely in his element."
Whitman Reviews @ Wakefield Jazz
The Fumbally Stables
Saturday 24th September
Doors 8:00pm/Music 8:30pm
Tickets: 12/15/17 Early bird tickets at €12 are available until 12th September. Tickets will be €17 at the door.
Line-up
Phil Robson - guitar
Jed Levy - tenor sax
Roberto Gatto - drums
Dan Bodwell - double bass