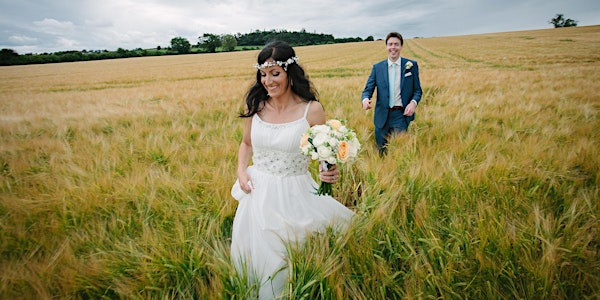 Rock Farm Wedding Viewings
Weddings at Rock Farm are fun, free spirited, quirky and original. We've hosted many special days & we'd love the opportunity to host yours.
When and where
Location
Rock Farm Slane Fennor Slane Ireland
About this event
Wedding Showcase at Rock Farm Slane
Rock Farm Slane is proud to present a wedding fair on Sunday the 29th of January. Couples are invited to book a viewing of our wedding venue. This is an ideal opportunity to see what Rock Farm has to offer.
Please select a time slot for your viewing and we will take it from there!
Upbeat, quirky and original weddings
Rock Farm is fast becoming one of the trendiest and coveted venues for couples looking for something flexible and just a little different. It is a working organic farm with glamping and eco-accommodation. As part of the Slane Castle Estate, located across the River Boyne from Slane Castle, Rock Farm has endless options for the wedding of your dreams and lots of space to make them come true.
We'll listen carefully to what you want and make that happen. Every wedding is bespoke and utterly unique.
This genuinely unique wedding venue allows each couple create their own bespoke event. We'll organise the catering to your taste and make sure everything runs smoothly. Simply decide on setting, menu, theme and size of wedding and we will prepare a costing to suit your budget.
Our wedding team will take you on a tour of Rock Farm as a wedding venue. This includes the Hay Barn and our beautiful stretch tent which is suitable for ceremonies and outdoor receptions.
It's your choice whether to hold your ceremony at Rock Farm or elsewhere. Both ceremony and reception can be indoors, outdoors or in the event tent. We can accommodate your wedding party and your guests (up to 100) in a combination of holiday homes including the straw bale Lime House, yurts, shepherds' huts and the bell tent village. You will see all these options during your tour.
Our largest eco guest lodge the Lime House is ideal for small intimate weddings with the added option of having the event tent for extra capacity. It is spacious, relaxed and comfortable and sleeps 22 people.
The beauty of our two day wedding offer is there no rushing off the next day and you get the chance to relax and spend time with family and friends before they leave. We offer several different catering options for day after wedding events. We have a selection of on site activities to keep your wedding guests busy and entertained – how does a kayaking trip on the River Boyne, a yoga session or a whiskey tasting in Slane Distillery sound?
If you'd like to truly experience what Rock Farm has to offer, you are welcome to book and stay on the Sunday night of the wedding fair. You can choose your accommodation, subject to availability. If you then book your wedding with us, we will refund your night's stay.
* Parking is located past the Hay barn on the left, please follow car park signs.
* Entrance to Hay Barn is through Main Doors at front.
* Please arrive at the time of your booked slot.
* For all other queries, please call 0419884861