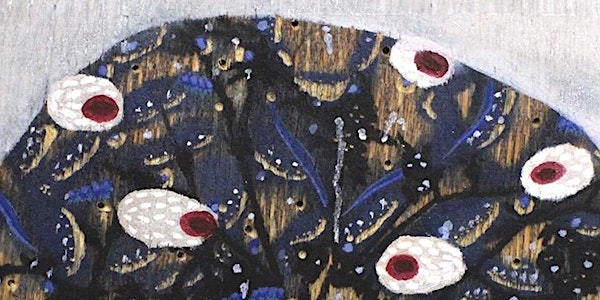 Multiple dates
Róisín O'Sullivan: I See Skies
Róisín O'Sullivan's practice stems from her experience of nature.
Date and time
Thu, 1 Dec 2022 16:00 - Sun, 26 Mar 2023 21:00 GMT
Location
Triskel Arts Centre Tobin Street Cork T12WYYO Cork Ireland
About this event
O'Sullivan makes paintings and objects that reflect the natural world around her, taking a deep interest in collecting and responding to materials such as wood and leaves. Her work slips into abstraction through intuition within the studio process, creating curious painted, carved, and burned marks.
The exhibition I See Skies features a new series of paintings that began at the Tony O'Malley residency in Callan, County Kilkenny. There, the artist spent over a year immersed in nature, embracing each intimate surface in the studio as an emotional response to the complexities of life.
ABOUT THE ARTIST
Róisín O'Sullivan is an artist based in Callan, County Kilkenny, and Cork City. O'Sullivan has presented her work in exhibitions throughout Ireland and overseas, including institutions such as the Rathfarnham Castle, Office of Public Works (upcoming solo show, 2023), the Butler Gallery, Kilkenny and Lethaby Gallery, London. She recently completed the Tony O'Malley residency, administered by the Royal Hibernian Academy. She holds an MA in Fine Art from Central Saint Martins, University of the Arts London, and a BA in Fine Art from the Centre for Creative Arts & Media, Galway-Mayo Institute of Technology. She is a recipient of multiple awards from the Arts Council, including the Visual Arts Bursary 2022. Her work is held in private and public collections, including the Office of Public Works.
Image:
I Flow, I Float, 2022
Oil on carved plywood
26 x 27 cm
About the organiser
Triskel Arts Centre is a vibrant cultural HUB in the heart of Cork City and we celebrated 40 years in 2018. Our main auditorium Triskel Christchurch is a multidisciplinary space housed in a fully refurbished neoclassical Georgian Church.
This state of the art venue, which launched in 2011, is programmed with a rich bill of live music, with a focus on Classical and Jazz concerts, cultural cinema, visual art exhibitions and literary events. Triskel also runs a contemporary art room Triskel Gallery Space. Unique in Ireland, Theatre Development Centre is the only fulltime operation dedicated to the development of theatre, this is managed by Corcadorca Theatre Company.
Cork Traveller Women's Network relocated their Headquarters to the centre in 2018 and continue to have a thriving partnership with Triskel. The Collective Cork, a yoga and dance school, recently joined the Triskel family.