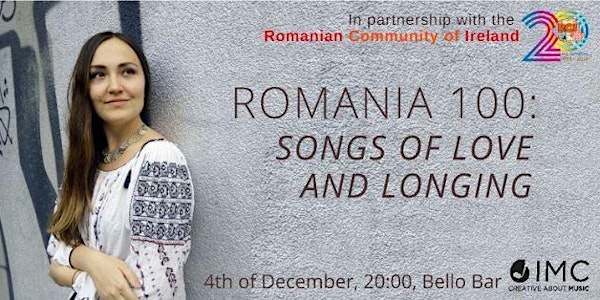 Romania 100: Songs Of Love And Longing
When and where
Location
BelloBar 1 Portobello Harbour Dublin Ireland
Description
Romania 100: Songs of Love And Longing is the newest project from Romanian born, Dublin residing vocalist, Aleka. The project coincides with the centenary of the unification of Romania and will feature imaginative reworkings of folk and popular songs that span the history of Romania's past 100 years. The concert features the leading lights of Dublin's new generation of jazz musicians with Chris Guilfoyle on guitar, bassist Barry Donohue and the dual drum talents of Matthew Jacobson and Brendan Doherty. This promises to be a unique and special night not only in the Dublin jazz calendar but also for the wider Romanian community based in Dublin.
Romȃnia 100: Cântece de dragoste și dor este cel mai nou proiect al vocalistei nȃscută în România și stabilită la Dublin, Aleka. Proiectul coincide cu centenarul marii uniri a României și va cuprinde prelucrări imaginative ale unor cântece traditionale și populare care se întind pe parcursul istoriei ultimilor 100 de ani ai României.
Sprijinit de Improvised Music Company și în parteneriat cu Comunitatea Romȃnilor din Irlanda, concertul prezintă instrumentiști de vârf ai noii generatii de muzicieni de jazz din Dublin, cu Chris Guilfoyle la chitară, basistul Barry Donohue și toboșarii Brendan Doherty și Matthew Jacobson. Concertul promite să fie o seara unică nu numai în calendarul de jazz din Dublin, ci și pentru comunitatea românească din Dublin.