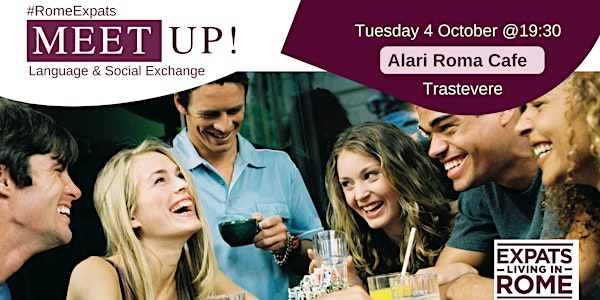 #RomeExpats Meetup Language & Social Exchange
Join us on Tuesday the perfect place to meet new people!
When and where
Location
Alari Roma 106/D Via Portuense 00153 Roma Italy
About this event
Join us at a new location on Tuesday at Alari Roma Cafe open since 1951 has many delicious homemade things made from the family nonni and Zii. They have a hot table ( Tavola calda) with veggies, and specials for the day. They serve pizza, supplì and many other italian favorites.
Come out and join socializers in multi languages!! Fun professionals from all over the world are waiting to connect with you. There is outside seating and if not too cold we can use that space too.
This event gives you great opportunity to network & socialize with fellow expats. It's perfect for those looking to make new friends, network and language exchange. Don't be shy, our team will introduce you. Everyone is welcome.
New to our events? When you arrive let us know you are new so we can help you network and introduce you to others. The team is wearing name tags.
What kind of people attend our event? All ages from 18 years old to our retired expats and we blend in fine together. We have 60 to 100 people that attend and it's best to always reserve. If you do not receive our newsletter it's a good idea to sign up here.
Cost: You can order what you want from the tavola calda or do apertivo which is from €10 to €15 with food and drink.
How to participate? Click attending on eventrate and we will print the guest list.
Thank you
Expats living in Rome ( #RomeExpats )
Follow us on Instagram
Do you get our newsletter? ​ ​You can ​​subscribe here