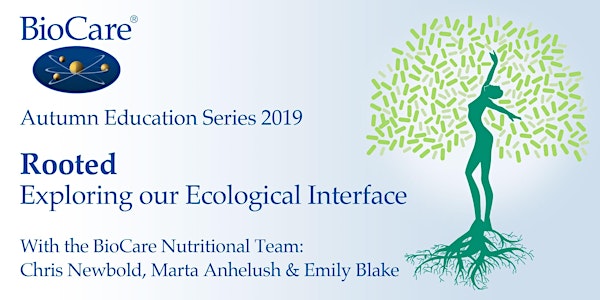 'Rooted' - Exploring Our 'Ecological Interface'- Dublin Practitioner event
When and where
Location
Our Ladys Hospice Harolds Cross Harolds Cross Dublin D6W RY72 Ireland
Refund Policy
Refunds up to 7 days before event
Description
With the BioCare Clinical Nutrition Team (Chris Newbold, Marta Anhelush & Emily Blake)
We are integrated into a complex ecosystem and have evolved to survive within it – 'rooted' into our biological environment, like a plant thriving within the earth. Our adaptation to bacteria, viruses, parasites, fungi and other potential biological antigens is mediated by our complex, highly developed immune system and barrier interfaces including the gut and lungs. However, this complex relationship is fragile and susceptible to dysfunction. In this seminar we take a comprehensive overview of how we maintain immune harmony, and what happens when it goes wrong. We begin by examining immune surveillance, tolerance, the process of inflammation, regulation, autoimmunity and allergy. Then we zoom in on our key mediating 'biological interface', the gut, particularly the microbiome, essential to many aspects of health. This comprehensive overview incorporates a range of key nutritional and lifestyle protocols you can use in clinical practice, based around the 'Adaptive Health' approach and using real case study examples. Case studies include inflammation and allergic response and gut dysfunction/SIBO.
THIS IS A PRACTITIONER ONLY EVENT.
10-3.30pm. 4 hours CPD applied for (BANT, NNA, NTOI).