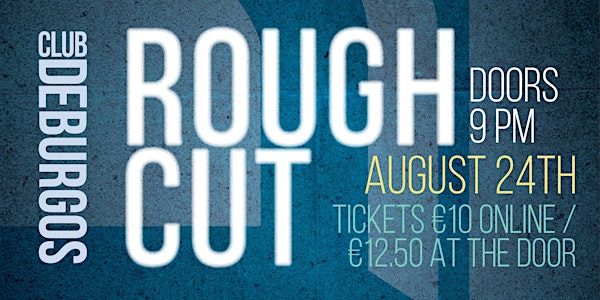 ROUGH CUT w/ Partland, Smythy, Muir Hogan
Having finally recovered from Rougher Cut in April, ROUGH CUT returns at the end of this month with Partland, Smythy and Muir Hogan.
When and where
Location
De Burgo's 15 Saint Augustine Street Galway Ireland
About this event
PARTLAND
Partland is the stage name of Galway based singer-songwriter and artist Thomas McPartland. Partland has gigged in various countries such as Canada, Germany, France, Scotland and England over the years, including support slots with the likes of Damien Dempsey, Ham Sandwich, Picturehouse and Heathers.
His first album, 'Sing Me to Shore' was released in Summer '16, and was featured as Internationally renowned songwriter Charlie McGettigan's Album of the Month on his radio show. Forthcoming album 'The Empty Atlantic' will feature a unique facet, in that the songwriter has also created a music video for each song. This gives an extra dimension in creating a visual world in addition to the listening experience, to give a full cinematic telling of the stories of the songs on the record.
Partland is now set to unleash his soothing, infectious and heart-wrenching new single 'Don't Shoot Me Those Baby Blues' on August 26th 2022.
SMYTHY
smythy is the stage name of Indie Pop Artist Andrew Smyth. Hailing from Tipperary and currently based in Galway, smythy is looking to break into the Irish music scene with his uniquely pop inspired indie sound.
Having been involved with various musical projects over his 26 years, Andrew Smyth has found the solo project of smythy to be the perfect environment to allow him to thrive musically.
Taking inspiration from artists such as Dayglow, Real Estate, Hers and Mac Demarco smythy crafts tunes that have a lo-fi indie feel bursting at the seams with catchy pop melodies that will have listeners singing along and eager to hear more.
MUIR HOGAN
Muir Hogan, a new addition to the Galway music scene, has been playing since she was seventeen and is hungry for her first summer of original gigs. In her own words, "If you like Fiona Apple, Ida Maria or any other angry women, you might like me!"