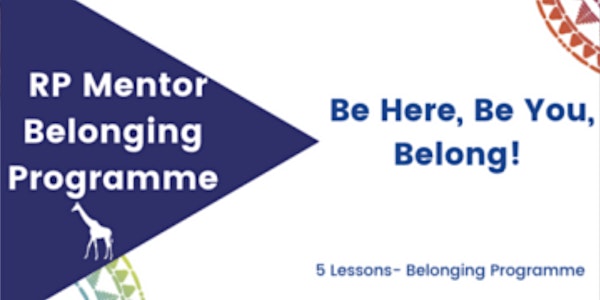 RP Mentors- Belonging Programme
Lead Facilitator Training Day for a School Co-ordinator with Michelle, focussed on skills development.
Date and time
Thu, 20 Apr 2023 09:30 - 15:30 IST
Location
Dublin West Education Centre Old Blessington Rd Tallaght Dublin 24 Ireland
Refund Policy
Contact the organiser to request a refund.
About this event
RP Training Day for co-ordinators (lunch included)
Suitable for primary & post primary student RP Mentors/ can operationalise & enhance an existing mentor programme (Prefects/ Cara Aire/ Buddies etc.
1. Lead Facilitator Training Day for a School Co-Ordinator with Michelle.
Focussed on Skills development - supporting a teacher to learn about RP through this RP Student Mentor programme
2.1 Curriculum Resources/Support/Lesson Plans
Co-ordinator Supports (Teacher)
- Lesson Guide and Resources manual to train RP Mentors. (5 x 40 min lesson plans to train/prepare students to be RP mentors)
- 12 month access to pre-recorded RP Mentor Training course 'Be Here, Be You, Belong'
- Set of 4 posters for training area
- Giraffe talking/listening piece & lanyard & RP question card
2.2 RP Mentor Supports (Students)
- 20 x RP Mentor Resource Booklets with lesson plans & resources (outlining 5 x lesson plans & resources for RP Mentors to facilitate 5 x 30 min 'Be Here, Be You, Belong' sessions with younger students)
- Resource pack for RP Student Mentors includes:
20 x Giraffe talking/listening pieces
20 x Lanyards
20 x RP Question cards
20 x RP Mentor Badges
3. Post-training Support
4 x 1 hour online Community Cafés (May / Sept./ Oct./ Nov.) for co-ordinators to check-in with Michelle and one another,
offering peer support and ongoing mentorship.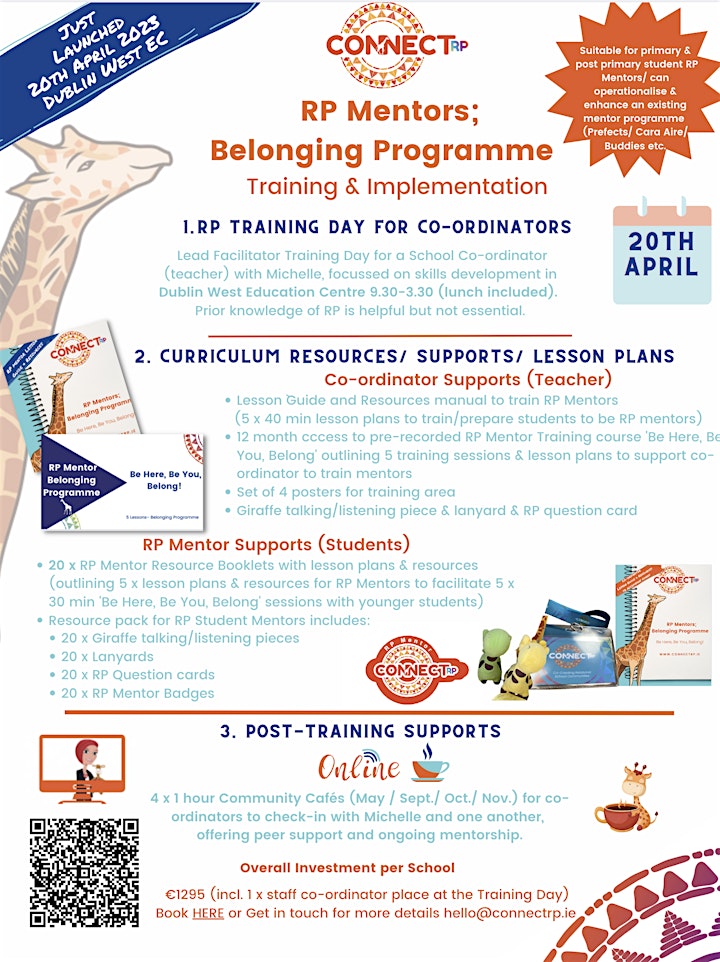 About the organiser
The intention of CONNECT RP is to facilitate, nurture and empower those seeking to grow relationships through empathy and connection; embodying and modelling the restorative philosophy and its everyday relational practices. This honours the understanding that we are profoundly relational, interconnected and inherently good.
Supporting educators to move from this restorative intention to living the everyday relational practices is our passion. This website aims to light the way for those seeking to understand the restorative philosophy and to explore their own journey as an individual, as a member of a team or as a whole school community.
The principles that underpin this philosophy aim to build positive relationships, create caring cultures and cultivate connected communities where we feel seen, where we can flourish and where we co-create relational learning communities.