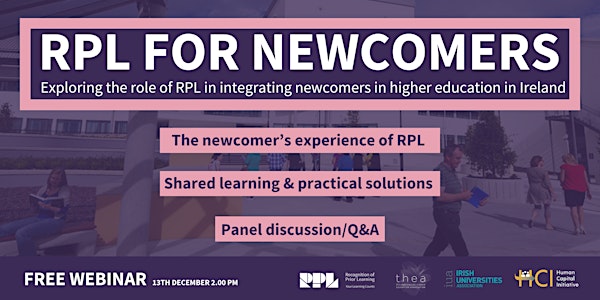 RPL for newcomers
The talk will explore the role that the Recognition of Prior Learning can play in integrating newcomers into higher education in Ireland.
By RPL National Project - Technological Higher Education Association
When and where
Date and time
Tue, 13 Dec 2022 06:00 - 08:30 PST
About this event
This webinar has four primary aims:
• To explore the role and benefits of RPL in integrating newcomers in higher education.
• To raise awareness and understanding about the application of RPL in higher education.
• To provide some practical insights into how to do this.
• To situate RPL within the wider context of activity to integrate newcomers in higher education, including NARIC Ireland and the National Student and Researcher Helpdesk.
Event Structure:
Welcome: William Beausang, Assistant Secretary at the Department of Further and Higher Education, Research, Innovation and Science: Opening remarks. (10 mins)
Part I: The newcomer's experience of RPL (50 mins)
• Waed Al Kuteifan, Chairman Phoenix Foundation:
Setting the scene: A newcomer's experience (15 mins)
• Carme Royo, Executive Director of EUCEN:
Why RPL is important for newcomers? Steps & considerations involved (15 mins)
• Carme Royo & Waed Al Kuteifan in conversation:
What happened next? Outcomes of RPL for the newcomer (10 mins)
• Charlotte Byrne (Irish Refugee Council):
Newcomers' experiences and the potential of RPL in the Irish context (10 mins)
Part II: RPL for newcomers – shared learning & practical solutions (35 mins total; i.e. 10 mins each, 5 mins for final contribution)
• Deirdre Goggin, RPL/WBL Research & Development at Munster Technological University:
Insights from the VISKA project & institutional practice
• Dr Jean-Marie Filloque, Lifelong Learning Expert:
Practical learnings from the VINCE project: Validation for inclusion of new citizens of Europe
• Andrina Wafer, Head of International Mobility and Prior Learning in QQI:
The contribution of QQI's recognition services in welcoming newcomers
• Dr Rose Ryan, Director of Access Maynooth University:
Learnings from the National Student & Researcher Helpdesk
Panel discussion/Q&A Chaired by Jim Murray, Director of Development QQI (30 mins)
Contributors: Waed Al Kuteifan, Carme Royo, Charlotte Byrne, Rosemary Kunene, Deirdre Goggin, Dr Jean-Marie Filloque, Andrina Wafer, Dr Rose Ryan.
Closing remarks (5 mins)
Grace Edge, Project Director of the National RPL Project