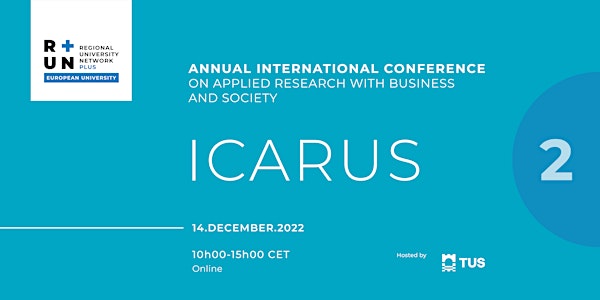 RUN-EU PLUS - ICARUS 2 Conference - 14th Dec, 2022 - By TUS
RUN-EU PLUS presents ICARUS 2: This Conference focuses on the Development of Professional Research Programmes for Business and Society
About this event
Click to join:
https://ait-ie.zoom.us/j/3918995250?pwd=c0drcFlFQzNZUnAzeTJnc1VsYkxydz09
Meeting ID: 391 899 5250
Passcode: Icarus2
The Annual International Conference on Applied Research with Business and Society – ICARUS 2, will engage research students, scholars, researchers and business and society stakeholders across the RUN-EU network of Universities and Associated Industry, Business and Community Partners.
It has three tracks, linked to the focus areas of the RUN-EU alliance and the RUN-EU European Innovation Hubs in the areas of (i) Future Industry and Sustainable Regional Development, (ii) Bio-economy and (iii) Social Innovation.
This Conference will:
• Provide a space for the presentation of the most relevant scientific results in the focus areas, including special tracks for professional research programmes' students;
• Contribute to the Open Science agenda through close contact and informal discussion with business and society actors, in which the conclusions of the scientific world are presented in a clear way, which is accessible to the general public and particularly to business and society representatives;
• Increase the cooperation and identify possible practical problems to be addressed by research students within the Professional Practice-based Research degrees;
• Implement annual innovation awards to recognise the companies or society actors that have a special contribution to the development of joint programmes, professional research activities and the development of the R&I ecosystem in the Regions of the RUN-EU+ alliance;
• Disseminate the impact of the professional research programmes in the companies and society, notably those that host the Professional Practice-based Research degrees.
We look forward to welcoming all participants and presenters on December 14th 2022.
Contact ICARUS2@tus.ie or June.Daly@tus.ie with any queries.