About this Event
Time to meet the neighbours... again!
The Island of Ireland is home to two wonderful, talented, clever and attractive game dev communities, and it's a crying shame we don't get together more often. Last January, we did. This January, let's do it again.
RUN FOR THE BORDER is an international meeting of the minds, an event created for the purposes of friendship, cooperation and camaraderie, taking place exactly halfway between Dublin and Belfast. We're breaking down borders… on the border.
Friday 17th January 2020 – The Spirit Store, Dundalk
BTW: This is the DUBLIN / SOUTH sign up page!
[If you are from BELFAST / NORTH, get your tickets here instead] Run for the Border 2020 (NI) <<< LINK TO BELFAST EVENTBRITE.
Imirt & Games NI have joined forces to bring our two tribes together, with generous support from the Creative Europe Desks UK & Ireland. The Creative Europe Desks are springing for TWO 50-SEATER COACHES (one from each city centre) to take us all to Dundalk and back!
This North-South shindig will once again be a friendly event designed to meet new people, form cross-border collaborations, eat food, drink drink, listen to sage advice from local geniuses, play with each other's toys, with probably a few surprises thrown in.
The final schedule is yet to be confirmed but the provisional schedule is:
5:00pm - Coach leaves Dublin at Custom House Quay. The bus company is Express Bus
6:30pm - Coach arrives at the Spirit Store, Dundalk
7-11pm -
- There will be food.
- There will be drink.
- There will be friendly, talented folk with funny accents to befriend.
- There will be speakers (but a couple less than last year so more time for chat!) Details on the speakers and talks below.
11:30pm - Coach leaves the Spirit Store, Dundalk
1:00am - Coach arrives back at Dublin City Centre
Note: You can make your own way to Dundalk if you wish. Because the cost of the coach is supported by Creative Europe, the ticket price is the same regardless of whether you take the coach or make your own way there. If you don't need the coach, leave the seat open for others please!
Other Info:
- Spaces on the coach are limited to 50 people. After that we'll have a waitlist, or get there yourself.
- The ticket price goes towards covering event costs: food, venue, etc. We have priced the tickets as low as possible, but in the event that there is a surplus, the money will go towards future events or to the organisation (Imirt/Games NI).
- The Spirit Store accept both Euro and Sterling.
This event is being generously supported by Creative Europe Desks UK & Ireland.
This event is jointly organised by Games NI, the association of Games Developers and Producers in Northern Ireland, and Imirt, the Irish Game Makers Association.
Once again: This is the DUBLIN / SOUTH sign up page!
If you are from BELFAST / NORTH, get your tickets here instead Run for the Border 2020 (NI) <<< LINK TO BELFAST EVENTBRITE.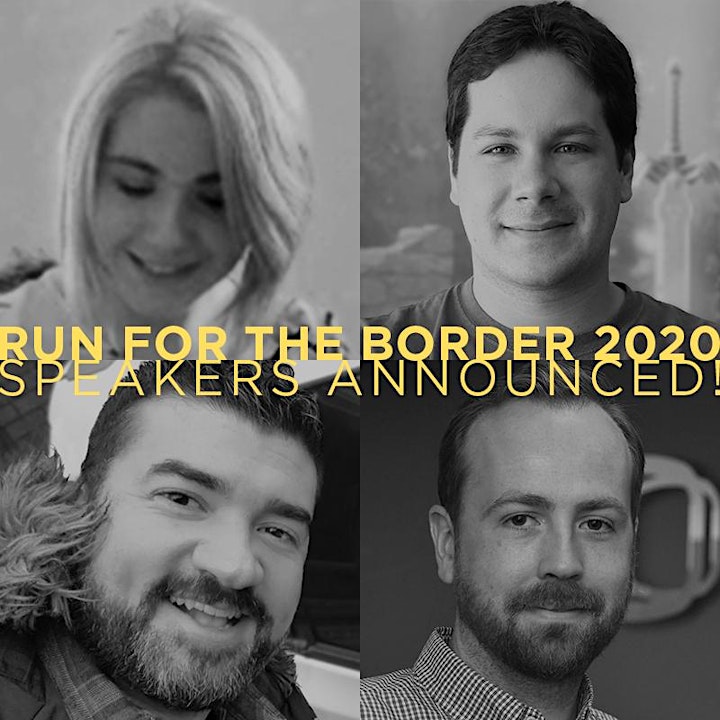 Jordan Bradley
Talk: A Tale of Prehistoric Proportions
Bio: Jordan Bradley is the Creator and Visual Art Director of Paleo Pines. A Belfast-born digital artist, Ulster University graduate, and life-long dinosaur nerd, Jordan made headlines in 2019 as a single piece of concept art drawn at Global Game Jam exploded on social media, igniting a flurry of worldwide exposure, and, in only nine months, resulting in the largest video game investment in Northern Ireland's history. Stories like this don't come along every day. Come to Run For The Border to hear Jordan's tale of the meteoric rise of Paleo Pines.
Pete Mc Nally
Talk: 3D Scanning for Indies: AAA art on an RTE budget
Bio: Pete Mc Nally is a Senior Designer at Havok, the technology that powers over 700 AAA titles such as Death Stranding, Zelda: Breath of the Wild, Battlefield and Halo. Pete has worked as an Art Lead/3D Generalist for 17 years across games and TV, North and South of the border, his personal work can be seen at https://www.artstation.com/PeteMc
Donal Phillips
Talk: I've Seen Things You Wouldn't Believe
Bio: As the former Interactive Liaison for Northern Ireland Screen, Donal Phillips has been instrumental in the financial support of projects of all sizes for the local game community in Northern Ireland and headed numerous international trade missions. Last year he left NI Screen to become the Business Development Manager for the Creative Industries at Queen's University Belfast. With over a decade of industry experience (including Jagex, EA, Relentless and Microsoft), he's uniquely positioned to tell all, from how trade bodies are formed to where all the bodies are buried.
Manuel Correia
Talk: So you've designed a board game. Now what?
Synopsis: Insights about publishing board games on your own or through an established publisher.
Bio: Manuel Correia is a game designer with close to 10 years of experience in both digital and analog games. You might have played one of them!