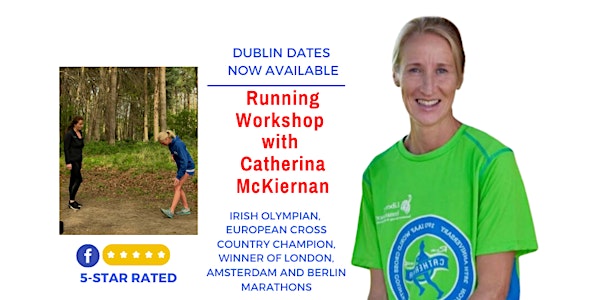 Running Workshop with Catherina McKiernan: Dublin, 1/1/22,12 - 4.00 pm
Join Irish Olympian, Marathon Winner and World Medallist, Catherina McKiernan for a Running Workshop, suitable for runners of all levels!
When and where
Location
Castleknock Castleknock - Location to be announced Castleknock Ireland
Refund Policy
Refunds up to 7 days before event
About this event
Join Irish Olympian and World Medallist, Catherina McKiernan for Running Workshop, suitable for runners of all levels - even beginners.
THE WORKSHOP includes individual diagnostic and recommendations, training drills, a Q&A section and easy and relaxed runs at a pace to suit the individual.
• DRILLS: The core elements of the day are training modules, demonstrations and drills, focusing on posture, leaning, landing, cadence, heel lift and arm swing. Practice these exercises in everyday life movement, so that they become familiar and easily transfer into your running.
• 1/1 Analysis: As each module is covered, I will review each person's progress individually, and help you overcome any challenges with your form, or posture.
* PRACTICE RUNS: During an easy run Catherina mentors the class through each core drill, giving the opportunity to get the feel of running more efficiently and with good mechanics.
• ASK AN EXPERT: There are no stupid questions! Catherina is an excellent coach, and she encourages open communication in her workshops. She invites your questions on running, which will benefit the whole class. She covers her FREQUENTLY ASKED QUESTIONS - about training, diet, footwear, breathing technique etc. and answers any other questions the participants may have.
• RECAP: Finish the workshop with another short run, where Catherina provides one-to-one coaching with each runner to focus on the areas in which they need most practice.
_________________________________
CATHERINA MCKIERNAN - BIO
Irish Olympian, European Cross Country champion, Winner of London, Berlin, and Amsterdam marathons, and the current Irish marathon record holder, Catherina McKiernan is regarded as one of the world's best ever cross country runners.
Since her retirement from competitive running in 2004, Catherina has devoted herself to teaching a new generation of runners. As a ChiRunning instructor with such an impressive international competitive record, Catherina is a sought-after fitness trainer and an expert on the mechanics of safe, injury-free running.
WHAT IS CHI RUNNING- the technique that Catherina made famous?
Chi Runners are taught to combine the Tai Chi principles of focus and flow with the power and energy of running. Runners learn to engage the core, align the posture, relax the limbs, and take plentiful, light steps, landing midfoot. By directing your attention to the process of running (form and technique), you'll reduce stress on the body, which will lead to hugely improved running technique with fewer injuries, improved speed, and more pleasurable, relaxing runs.