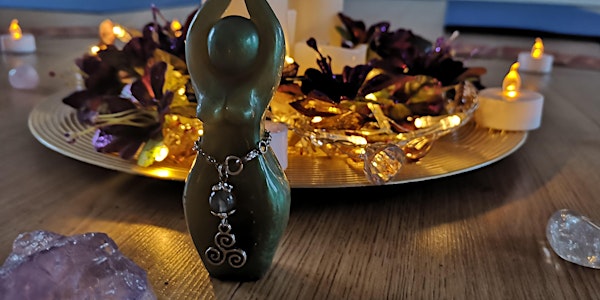 Sacred Sisters Full Moon Gathering - Rites of Síle na Gig
Join us for a Full Moon Women's circle where we will reconnect and reawaken the Wild Women within us all with the Goddess Síle na Gig.
When and where
Location
Saint Brigid's Shopping Centre Main Street #Unit 10 Blanchardstown Ireland
Refund Policy
Contact the organiser to request a refund.
About this event
In this Full Moon Circle, we will be reconnecting with the energy of the Wild Woman within us all.
We will be calling on the Goddess Síle Na Gig as we learn how to express rather than respond to our sexuality and our innate wild ways.
The energy of the Full Moon brings healing and cleansing, and we will be harnessing this energy to bring healing to any parts of our sexuality that has been wounded in any way. Afterwards, we will learn to stand in our full power as we receive the Rites of Síle Na Gig (Moon Mná gifted Rites).
During this circle you will be encouraged to accept, honour and integrate your whole self through ritual, ceremony, storytelling, mantra and singing, journalling and connection with sisters in circle.
If you feel drawn to this circle, listen to your guidance and join us.
Read on to learn more about Women's and our Moon Circles...
For thousands and thousands of years women have gathered in sacred space with their sisters to honour the divine connection with Mother Earth, Grandmother Moon and each other, understanding the strength and importance of this natural connection.
Our internal rhythms and cycles beat in unison with those in nature, the seasons and the moon.
Our ancestors innately knew this and celebrated this connection throughout the year. Once gathered in sacred circle they would nourish, nurture and honour these cycles and their own wisdom, intuition and divine femininity.
We may have forgotten or ignored these ancient truths held deep within our being but now is the time to listen and reawaken them.
We are being called back to the rites, ceremonies and rituals of our ancestors. We are being invited to remember the Divine Feminine in all her glory and reclaim the innate power and Goddess energy within us that has been silenced for so long.
The divine feminine is represented in four elements, similar to the seasons - we are the maiden, the mother, the wild one and the crone separately yet all in one.
In our Sacred Sisters Full Moon Circle, we will come together to honour and awaken the Goddess energy within us all.
We will recall and realign with the wisdom, intuition, power, passion and creativity innate within us through ritual and ceremony for some deep soul nourishment.
Just like in nature and the moon we all go through phases in life, some short, some long, some challenging, some carefree. Through all these times, authentic connection, support and compassion are vital.
Our Sacred Sisters Full Moon Circle will allow you to be seen and heard, encouraged and empowered, inspired and energised by the beauty and strength of the women present.
Come join us, we can't wait to see you!