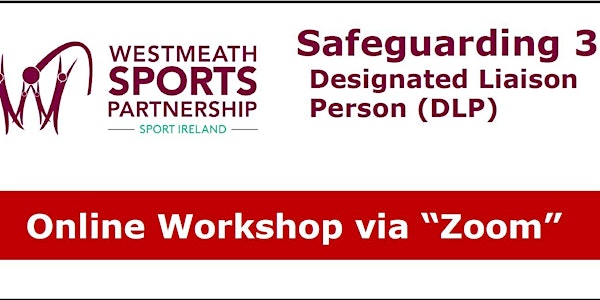 Safeguarding 3 - Designated Liaison Person (DLP) Workshop
Sport Ireland Safeguarding workshops are the workshops recognised across the sporting sector.
About this event
Prior to attending a Safe Guarding 3 workshop you must have completed a Safe Guarding 1 and/or 2 .
The online Safeguarding 3 Workshop is an interactive course which requires participants to have :
Good internet connection to allow you to have a video / take part in group discussion
Access to email - Zoom link and course materials will be sent out to participants prior to course date in word and PDF.
To gain accreditation, it is essential to complete the whole course
Please beware :
This course is for Over 18's ONLY - MAXIMUM 2 persons per club/sports organisation
Each participant must have their own individual Zoom connection. Sharing connections is not an acceptable method of participating.
The online course will be delivered between 6.30pm -9.30pm via zoom.
Certificates of completion will be issued by post and participant details are subsequently registered with Sport Ireland's National Database.
Should you require any further information on accessing the online safeguarding course feel free to contact Westmeath Sports Partnership on 044 93 90208 or email info@westmeathsports.ie