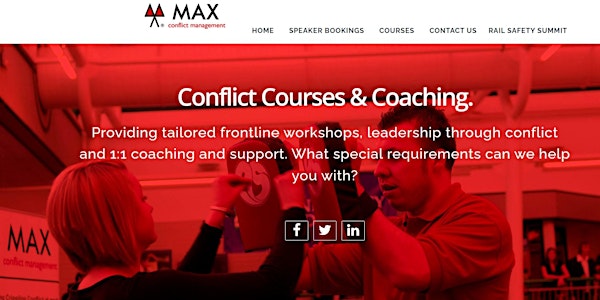 Safer Streets 3 - Protect yourself: assertiveness & practical self defence
A 3 hour fast paced event where you learn to successfully protect yourself against any aggressor
About this event
PERSONAL SAFETY COURSE INCLUDING SELF DEFENCE
WHO NEEDS THIS COURSE?
After the shocking murder of Sarah Everard, Safer Streets 3 was set up to fund practical initiatives to enable women to be safe out and about.
It doesn't get more practical than this.
In a fast-paced supportive environment learn in one empowering experiential session the essence of how to keep yourself safe:
Heightening awareness, getting away before it kicks off
Being able to set and maintain a safe distance through powerful assertive techniques
Learn how to communicate very strongly even when terrified to deter a predator
We will reprogramme your brain! ........ so that you act instinctively to protect yourself with powerful self defence moves for any shape and size.
YOU ONLY NEED TO DO THIS COURSE ONCE TO BE ABLE TO BE MORE CONFIDENT,  AVOID MUCH PAIN AND ANGUISH AND EVEN SAVE YOUR OR SMEONE ELSE'S LIFE
This is not a martial arts course.  We have great respect (and plenty of our instructors are experienced martial arts instructors) for the arts but in most cases they give a false sense of security because you don't know how you will behave until you are in the middle of a confrontational situation.  Gain confidence and skills in complete safety with MAX and make any mistakes with us - where it doesn't matter.
You don't need to keep on coming back and repeating the course because of the re-programming of your reptilian brain that takes place on the course.
The confidence boost your receive is real - and immediate.
This is the outline of the course
Awareness -How to avoid getting into a nasty situation in the first place
Right to self defence - Dispelling the myth that you cannot defend yourself robustly
OK to be frightened - This is natural - use the fear as a rocket fuel to have a powerful voice or strike
Boundary Exercise - The importance of keeping the unwanted at a safe distance
The Fence - How to look like a strong and harder target, keeping the unwanted at a safe distance
What real fights are like and anyone - including you - can win for long enough to stay safe
Knife defence - The basics of avoiding getting cut from a bladed weapon. First response is to run (see importance of Awareness above)
Use of available weapons - How to stop someone with everyday objects if you have to
Keeping Your Cool under pressure
Stopping a Hug - Learning how to be assertive, not passive or aggressive
Intimidations - You learn how to handle an aggressive verbal onslaught where you keep your cool and get the other to go away
Right words & congruent body language - Learn how to do this properly with just your body language, words, tone and delivery
Feedback with Impact Exercise - Some basic conflict handling tools before it gets really nasty
Standing up to TheIntimidator™Intimidation practice - A reminder and more practice before handling TheMADMAXMAN™
Self Defence & Pads
Eyes - Devastatingly effective. Unexpected. The Great Equaliser
Palm - To stop you breaking your finger bones when hitting someone hard
Knee - Into the groin if you are tall enough. Into the head to stop a rape
Defending against TheMADMAXMAN™ Front - You are very safe but won't feel like it when he comes for youDefending against TheMADMAXMAN™ Rear - You learn how to deal with an attack from behind
WHY IS THIS TRAINING IMPORTANT?
In the age of instant fulfilment and to many a sense of entitlement; aggression and violence follows hot on the heels of impatience:
This course will help you stay safe:
On your way to/from/at work
Against road rage
In handling unwanted sexual attention
When out enjoying yourself socially
Protecting children and other more vulnerable groups
You will not be disappointed.
Have a look at feedback from our courses.
https://www.youtube.com/watch?v=nImjBHGnWxo
Our clients include the NHS, City, Borough and County Councils, MIND, Scope, Barnado's, Prince's Trust, YMCA, Salvation Army, Sikh Community Nottingham, Islamic Schools, Colleges across the country, University of London, PRUs, Places for People, Framework Housing, East Kent Housing, Railway Companies JET, Derby County Football Club, the FA and many other football clubs including Chelsea FC, Arsenal FC, Aston Villa FC because of our appearance on Football Behind Bars,  
FAQs
 Are there ID or minimum age requirements to enter the event?
This is for women. Minimum age of 16.  This is an adult class with adult themes. (In case of children younger than this who have experienced/witnessed domestic violence please talk to us confidentially)
What are my transport/parking options for getting to and from the event?
Plenty of parking at the Hall.
Should I bring a drink/food?
Bringing a water bottle is a good idea. You will be too busy to eat. No refreshments are provided
How can I contact the organiser with any questions?
Please call or WhatsApp 0774 263 4581
How do I pay?
You don't! Funded through the Safe Streets 3 Fund through which Derby City Council is delivering this initiative.
How many can you have at one time?
12 attendees, first come, first served - book now!
Safety First
Covid compliant - Face Shields are available, bring your own mask. Special Covid appropriate measures in plac. Bring hand sanitizer. All instructors CRB checked.
We use specialist safety equipment to protect you.  We have been delivering this course since 2008 and no-one has been hurt. 
 VIDEO BELOW SOMETHING WE DID PRE LOCKDOWN! Gives you a flavour of what to expect.
Organiser of Safer Streets 3 - Protect yourself: assertiveness & practical self defence
MAX provide tools and practical experiences to empower individuals and groups.
We help clients to assertively take control of difficult situations and communicate confidently and  effectively in a wide range of conflict situations.
We utilise proven established techniques plus the latest scientific research and tools to enable the handling of situations ranging from mild disagreement to potentially violent incidents.
We are part of MAX Training and Development and have been delivering value-for-money effective interventions around the world since 2006.