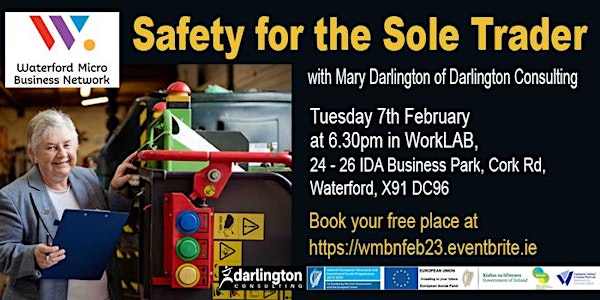 Safety for the Sole Trader
Join us in February for a networking event when Mary Darlington of Darlington Consulting will give tips and advice on how to stay safe and m
By Waterford Micro Business Network
Date and time
Tue, 7 Feb 2023 18:30 - 20:30 GMT
Location
workLAB Cork Road X91 DC96 Waterford Ireland
About this event
There's a lot of talk about business performance: how to drive better leads, how to enhance customer care etc., and all this is great, but what about health and safety?
Join us in February for a networking event with Mary Darlington of Darlington Consulting.
If any of you have an accident and are out of work, you cannot be easily replaced and what happens to your business? So, preventing accidents and injuries is Mary's main objective. Mary will share the 10 key areas you as sole traders need to manage in order to stay safe and mitigate risks in your business. They include managing lifting and moving, preventing slips, trips and falls, setting up your computer properly, driving safely for work, managing your stress and much more.
With over 30 years' experience in health and safety across a wide variety of sectors including manufacturing, retail, hospitality, services and not for profits Mary will share some practical approaches to make health and safety a normal part of what you do. Health and safety doesn't have to be complicated but even if working from home you need to consider it.
Mary has stories to share about how something simple like neglecting maintenance and failure to install adequate and is some cases simple health and safety procedures were ignored, which resulted in causing extensive damages, or in some situations, completely destroying a business or worse, caused serious injuries and fatalities.
On the evening there will be a useful handout to take away, refreshments will also be served and there will be a surprise too so don't miss out!
About the organiser
The WMBN was established in 2005 by the Department of Social Protection and Waterford Area Partnership to encourage and support people who take the step towards self-employment and to assist people setting up their own business.  It is currently one of the largest micro networks in the country and the members are generally new start-ups and sole trades who are at various stages in their business. They find the network extremely beneficial for making new contacts and generating new business. For more information on the Network, the WMBN website is www.waterfordmbn.com.