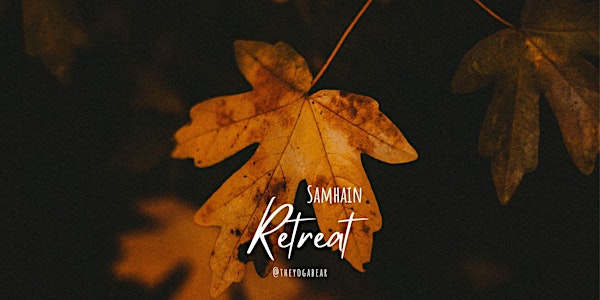 Samhain Day Retreat - Yoga & Cacao Ceremony
Samhain Day Retreat with Yoga & Cacao
When and where
Location
Samadhi Cow's Lane #The Wooden Building Dublin 8 Ireland
Refund Policy
Contact the organiser to request a refund.
About this event
Reflect | Release | Reform
Join Aine for an urban day retreat of ritual and reflection as we surrender to the darkness of winter. Welcoming the invitation of Samhain to pause and question what needs to be released from our lives now, a restorative and reformative yoga practice will be woven with journaling and contemplation brought to completion with a cacao ceremony.Suitable for all levels of yoga practitioner and those wishing to explore the benefits of ceremonial cacao.
Lunch will be served
***********************
As we end one cycle and begin another, we open the doorway to and reclaim the feminine so that the masculine arises naturally. At this time of death, surrender, transitioning and descent, life force being drawn back beneath the earth. It is a time for completion, rest and going inward. A time to drop in to the void and ask yourself - What do you need to release, what is no longer serving you, what needs to die?
We need to surrender into the fire of Samhain, place aspects of ourselves that no longer serve us and allow the fire to cleanse and transform us
Welcoming the invitation of Samhain to pause and question what needs to be released from our lives now, the challenge lies in whether we can stay in the discomfort, face the emptiness of the void, surrender to the not knowing and allow transformation to take place
Why Cacao?
"Whenever the balance in the World becomes threatened, Cacao comes from the rainforest to open people's hearts and return the World to a state of harmony" - Mayan Wisdom
For thousands of years, Cacao has been used by indigenous communities of Central and South America as a medicine for physical and spiritual healing. Over recent years, it has become more popular in yoga communities around the world because if it's compelling capacity to encourage an awakening to our true nature. She assists us in releasing that which no longer serves us, connecting to our inner wisdom and allowing our hearts to give and receive unfettered.
Benefits
Translating as "Food of the Gods", Cacao is rich in Theobromine which assists in both clarity and focus, Anandamide which is often referred to as "the bliss molecule", flavonoids which are natural antioxidants, magnesium which is important for overall well-being and improved sleep patterns, iron and calcium.
For the Ceremony
Bring your favourite cup and any blankets, cushions or eye pillows to keep you cosy during meditation;
Avoid caffeine, dairy and big meals that day;
Avoid alcohol the day previous and day of;
Try not to eat at least 2 hours before the ceremony if possible. Otherwise, keep it light;
Stay hydrated;
Wear layers;
If you have a heart condition, are taking MAOI's, pregnant or breastfeeding, please advise in advance so that your dose of Cacao can be adjusted;