Description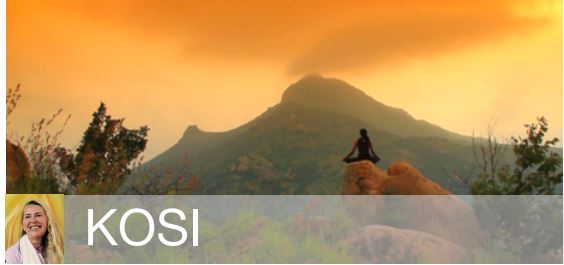 Et si il était possible d'être heureux dans n'importe quelle situation?
Kosi offre un enseignement de type Advaita Vedanta, dans la lignée de Sri Ramana Maharshi, Saint indien né en 1879, dont le rayonnement spirituel est encore très répandu aujourd'hui dans le monde entier.
L'enseignement Advaita est un accès à une spiritualité libre de toute religion, de toute philosophie, de tout dogme et de toute obligation. Il s'inscrit dans la tradition de la non-dualité, essentiellement centré sur la notion de Self ou du Soi et de la question "Qui suis-je?", dont le but est de révéler notre vraie nature.
Kosi partage un enseignement spirituel puissant et nous guide vers cet espace de liberté déjà présent en chacun de nous, libre de nos souffrances, de nos circonstances de vie et de notre ego.
Lors des satsangs (littéralement «être en compagnie de la Vérité»), l'opportunité se présente, en sa compagnie, de s'éveiller à notre véritable essence et de voir au-delà de l'emprisonnement du mental et du jugement permanent.Soyez les bienvenus pour découvrir Kosi et son enseignement,dans le silence ou le partage, aucun pré-requis n'est nécessaire!
Info par sms au 078.646.48.20 ou 078.728.90.41
***************************************************************************
English Version
What if it was possible to be happy in any situation?
Kosi offers a spirtual teaching in the tradition of Advaita Vedanta and steeped in the core teachings of Sri Ramana Maharshi, an Indian saint born in 1879, whose spiritual radiance is still widespread throughout the world today.
This teaching is free of all religion, philosophy and dogma. It is part of the tradition of non-duality, centered on the notion of Self and the question "Who am I?", whose purpose is to reveal our true nature.
Kosi shares a powerful spiritual teaching guiding us to the freedom already present within each of us - free from suffering, our life circumstances and our ego.
In satsangs (literally "being in the company of the Truth"), the opportunity arises to awaken to our true essence and to see beyond the imprisonment of the mind and our personal judgments
Please join us to discover this for yourself - All Welcome !
Info by SMS to 078.646.48.20 or 078.728.90.41