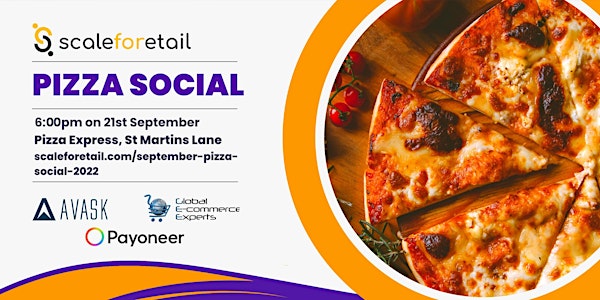 Scaleforetail Pizza Social @ Pizza Express
Join us at our pizza social event with Shelley Simone and Christian Morgan to meet up with fellow eCommerce sellers, get to know each other.
About this event
Grab your FREE Ticket at the SFE Website.
Are you an e-commerce entrepreneur? Do you run a brand or sell products on Amazon, eBay, Shopify ... or anywhere else online?
If so, there is only one place to be on the 21st September:
The ScaleForEtail Pizza Social!
There are no speakers, no presentations, no slides, no videos.
Just the most important thing: the community.
The Social is a chance to meet up with fellow Amazon and e-commerce entrepreneurs, get to know each other and have a chat. The ScaleForEtail organisers will be there (Shelley and Christian) and you're welcome to pick our brains as well as learn from your other peers.
Register now through the Scaleforetail Website:
👉 https://scaleforetail.com/september-pizza-social-2022ev 👈
Why attend?
It will be a great evening – a room full of e-commerce peeps chilling out, catching up and sharing their thoughts and solutions. Everyone from beginners to advanced sellers.
🤔 If you're stuck on something, come along and ask!
🤩 If you've found a great solution, come along and share!
😍 Come along and make friends with people who have similar experiences every day.
For many e-commerce / Amazon sellers, their friends and family don't really 'get' what they do. When you try to talk about your day, or the challenges you face, or the victories you've won their eyes glaze over and they try to steer the conversation back to more familiar territory. Or they ignore you completely.
This social will be full of like-minded souls who share similar experiences to you. People you can talk to. People who will 'get it'. Maybe even people that will become close friends over time.
Come along, join in the fun, and don't miss out! 🙂 Besides which, there's pizza too. 😋
Venue: Pizza Express, St Martins Lane: https://goo.gl/maps/nsNRMehhqZQ78YnL8
Date: Wednesday 21st September
Time: Meet at the restaurant any time from 6 pm onwards. We'll aim to start ordering food around 7:30 pm. Early birds (who want to eat early) and late-comers are all welcome! (It's very informal 😅)
Register your interest in the pizza social today then keep an eye on your email for details of the exact time, venue, and format of the evening.
👉 https://scaleforetail.com/september-pizza-social-2022ev 👈
Note: registration is free... in fact, it's better than free! Everybody that registers in advance will get a free drink on arrival (funded by our lovely sponsors AVASK, Payoneer, and Global e-Commerce Experts). You will then pay for your own food and drink for the night. If you don't register in advance, you're still welcome to join us on the night - but please do register if you can so we have a good idea of numbers (and to get your free drink!).
Register now and see you on Wednesday!
👉 https://scaleforetail.com/september-pizza-social-2022ev 👈
Christian and Shelley
The ScaleForEtail Team