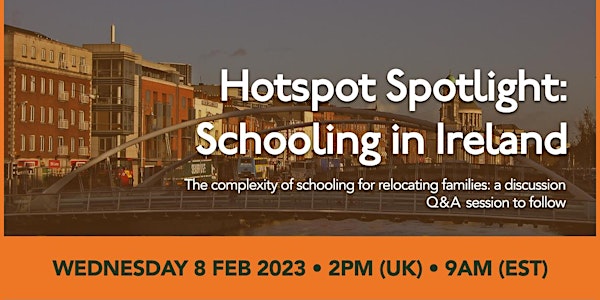 Schooling In Ireland: A Discussion Between School Placement Specialists
The Complexity of Schooling In Ireland Today for Relocating Families.
By Bennett International Education Consultancy
Date and time
Wednesday, February 8 · 6 - 7am PST
About this event
Join us for a highly informative live conversation between two seasoned international education consultants, presented by Bennett International Education Consultancy.
Leticia G. de la Rasilla and Sarah Teasdale, who are both parents, former teachers, and highly regarded international education consultants and school placement specialists, will cover several topics regarding schooling in Ireland today, including:
- the Irish school system
- the school start age in Ireland and current student space availability issues
- applying to public, private, and international schools
- considerations for children with Special Education Needs
A short Q&A session with our attendees will follow their discussion.
About the organizer
Established in 1991, Bennett International Education Consultancy's global team has supported thousands of relocating families all over the world to find and secure placement in the best-fit schools available for their children in their new home locations.