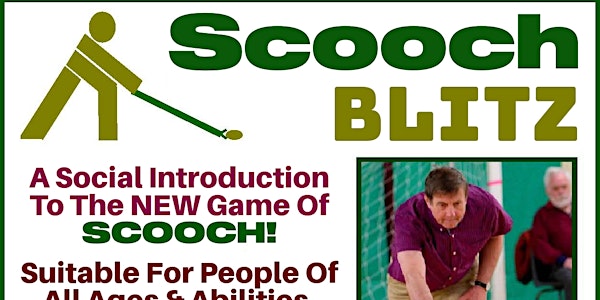 Scooch Blitz St. Marys Hall Portlaoise Sept 21
Thursday 23rd Sept
When and where
Location
St. Marys Sports Hall Borris Road Portlaoise Co. Laois Ireland
About this event
Scooch is an adaptation of the popular sport of ShuffleBoard and is currently being promoted amongst Men's Sheds and older adults groups around the country.
The game of Scooch has been designed to suit smaller spaces and pockets and can be played on any flat, smooth surface (wood, concrete, tight carpet) using smaller discs and shorter cues than ShuffleBoard.
Limited Numbers - Book Early To Avoid Disappointment.
COVID 19 Health & Safety Guidelines:
Laois Sports Partnership will be adhering to strict Health & Safety protocols for the delivery of all training and events in line with Government/HSE guidelines.
Participants are required to comply with social distancing and observe good personal hygiene/hand washing and cough/sneeze etiquette. Participants will be reminded of COVID 19 symptoms at time of booking, and will have a personal responsibility NOT to attend if they (or members of their household) are displaying these symptoms. Any participant who is feeling unwell or starts to display symptoms at the training/event will be asked to leave and seek medical attention.
The sharing of equipment/bottles etc. will not be permitted and participants are asked to bring any items they may need such as water bottles marked with their own name, or personal training equipment (if applicable). Any equipment provided by the LSP for the participants use will be fully sanitised before and after the training/event.
Participants are not to congregate in close groups while arriving/departing the event, and should maintain social distancing.
Only registrations made online will be accepted, no registrations will be accepted on the day.
If you or any of your family are experiencing Covid 19 symptoms please inform us and do not attend this event.
** For general information on returning to sport please see Sport Ireland free online course at sportireland.ie/covid19/course
Thank you for your understanding and we look forward to seeing you on the day!
If you have any further questions please contact Catriona on cslattery@laoissports.ie