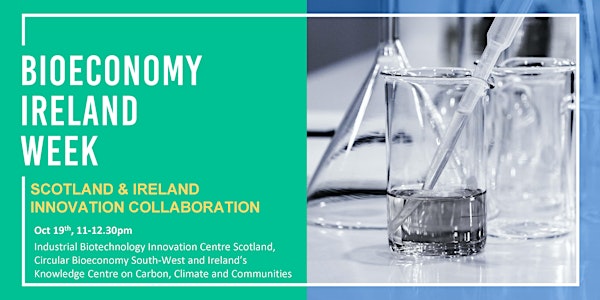 Scotland & Ireland Collaboration: High Value Bio-based Ingredients
Build connections between Scotland and Ireland Circular Bioeconomy actors to commercialise high value bio-based products and ingredients
About this event
The circular bioeconomy is a USD $7.7 trillion opportunity for business and a key element in the fight against climate change, biodiversity loss and resource scarcity. Globally, the emphasis on this sector as an engine for economic growth is gaining momentum, with the European Bioeconomy Strategy in full swing and more recently the launch of the National Biotechnology and Biomanufacturing Initiative in the USA.
This year, Scotland and Ireland are each hosting 'Bioeconomy Week' in October to raise awareness of the strategic importance of the role of industrial biotechnology in our future circular bioeconomy.
Lots of work is underway in our business and innovation community and more can be achieved through collaboration.
The event will include showcase presentations from a series of Scottish and Irish companies and will focus on building connections and opportunities for collaboration.
Presenting companies: Marine Biopolymers Ltd, HUID, Prickly Thistle, Celtic Renewables, SeaMeGro, Niskus Biotec and Addible Ireland.
Join this event to:
Learn about case studies of industry led innovation to create high value bio-based products
Hear about Training & Skills, Services and Facilities available through the Industrial Biotechnology Innovation Centre and Munster Technological University
Share insights on what's needed to scale collaborative activity
Engage first-hand about upcoming opportunities for future site visits facilitated through the Irish and Scottish innovation organisations.