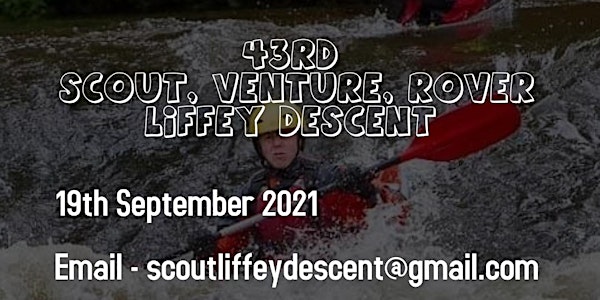 Scout, Venture, Rover Liffey Descent 2021
The SVR Liffey Descent takes place on September 19th 2021. Email scoutliffeydescent@gmail.com for full details.
When and where
Location
Lucan Weir 12 Barnhill Cross Roads K78 RD25 Lucan Ireland
About this event
The online entry form must be completed by a Parent/Guardian or Scouter in charge
This event is limited to 100 Participants
(In accordance with S.I. & C.I Kayaking Guidelines)
RACE DATE: Sunday 19th September 2021
WHERE: River Liffey, Lucan, Co Dublin... All age Groups are to check in at the corner (A.K.A Bad Bend) above Lucan Weir (Opposite side of the River Liffey to Lucan Village).
The race starts above Lucan Weir and finishes at the Canoe Centre, Mill Lane, Palmerstown, D20 DY26
SPECIAL NOTE FOR ALL ATTENDEES –
There will be a number of restrictions and Covid 19 protocols in place for the 43rd Scout, Venture, Rover Liffey Descent to ensure the safety of all participants. We will be adhering to Government guidelines for outdoor sporting events at all times.
We will be looking for rescue support from Kayakers, Rope Throwers, Divers at various parts of the river between Lucan and Palmerstown. Please contact scoutliffeydescent@gmail.com. We can't run this event without sufficient rescue. Thank you
NOTE TO ALL DRIVERS dropping off People and boats on the day. Due to the limited space available at the start point we cannot allow any cars to stay parked in the immediate area where the canoes are being checked in.
Cars can only drop off Canoes and then must move on immediately.Warning- Car thieves have been known to work in the area. Please be aware of this. We accept no responsibility for loss or damage to any property however caused
We have to be aware of safety; local residents and other traffic also using the road,
We ask everyone's co-operation with this.
This will be strictly enforced
RACE CLASSES:
Fibre Glass Singles (Sprites or similar spec, NO Golas or Gola Sprints will be allowed):
Ages Under 14, U/15, U/16, U/18, 18 -26 Male and Female
(Under 14 means 13 to 14 but no less than 13 on the day of the race)
Plastic Singles: Under 14, U/15, U/16, U/18, 18 -26 Male and Female
CHECK IN TIME;
Check in for all age Groups from 10:00 hrs - 11.30 hrs
No entries or payments will be taken on the day
START TIME:
All Plastic Kayaks will start at the same time 11:45 hrs
All U/14 – U/15 Fiberglass Kayaks will start at 12:00hrs
All U/16 and U18 and 18-26 Fiberglass Kayaks will start at 12:15hrs
ENTRY FEE: €15.00 per entry to be paid on eventbrite only
Payment must be received prior or on race day.
No entries will be taken on the day
**Please note: Participants must fall into these age groups by June 1st this year**
ALL PARTICIPANTS MUST HAVE AT LEAST CANOE IRELAND LEVEL 2 SKILLS AWARD
ALL PARTICIPANTS MUST BE CURRENTLY REGISTERED MEMBERS OF A SCOUT, VENTURE or ROVER TROOP
Criteria for Entry
1. All entries close Friday 17th September 2021 at 10pm
2. Entries and payment will only be excepted on Eventbrite.ie
3. By entering this race each participant does so in the knowledge that there exists an inherent element of danger as a consequence of participating in the SVR Liffey Descent. Consequently, each participant in the SVR Liffey Descent acknowledges and agrees to release all agencies involved in the SVR Liffey Descent from any and all liabilities.
4. No entries will be accepted on the day of the event, No exceptions
5. All participants in the race must be currently registered with a Scout, Venture or Rover Troop
6. All Participants must be signed off to at least Canoeing Ireland level 2 Kayak skills.
7. All Participants must wear a properly fitting Buoyancy Aid, Helmet, Spraydeck & Footwear
8. All participants enter the race in the spirit of the Descent and the spirit of Scouting!
9. Competitors must be no less than 13 years old on the day of the race.
10. Any Kayaker on the River after 1hr 45min will be asked to retire off the river at the next weir or available area; Participants must notify the Rescue or Sweepers if they are retiring from the race before the finish line and then make their way back to the finish and report to the Recorders in person.
11. All Kayakers must be Competent Swimmers.
12. The start times and starting and finishing location maybe subject to change on the day due to water levels on the river.
13. The online entry form must be filled out by the the Parent/Guardian or Scouter in charge
14. All Kayaks must be river-worthy and must have
Buoyancy bags or proper buoyancy foam fit for purpose, securely and firmly fitted in the bow and stern of the Kayak. Styrofoam from electrical appliance packaging will not be passed as buoyancy
Fitted Toggles or hand grips bow and stern
A properly-fitted foot support.
15. All Kayakers must wear:
An approved Kayaking Helmet
An approved properly-fitting Buoyancy Aid Minimum 50 Newton
Properly fitting Spray Deck.
Appropriate Footwear with a hard sole. Socks worn alone of any description are not permitted
Each Kayaker must have a Paddle
16. All Kayakers must attach their race number on the right hand foredeck of their boat. Race numbers will be given at check in.
17. If the Kayak or Kayaker are not properly fitted out on the day and not passed by the Race Starter, they will not go on the river. NO EXCEPTIONS.
18. Any competitor seeing another competitor in danger is expected to render all assistance possible. Failure to do so may result in disqualification.
19. All Scouts are to fall in at the end at the prize giving in full uniform.
20. Prizes will be given for 1st, 2nd, and 3rd in each age group and each class Male and Female. There is also a commemorative badge for the first 100 finishers.
21. Points for the Overall Trophy will be 4 for 1st, 3 for 2nd, 2 for 3rd and 1 for 4th in each category male and female.
22. There are two separate Over-All trophies; one for Male and one for Female best over-all troop.
23. The officer of the day has the final say on all matters.
24. The race only goes ahead depending on the suitable water level. Safety is our first priority!
25. Protests should be lodged in writing as soon as possible after the occurrence but in any case, not later than 10pm on the day of the Descent directly to the email below. All protests will be heard and adjudicated on by a Protest Committee appointed by the officer of the day. Please send disputes to scoutliffeydescent@gmail.com
26. This event is organized and run by the 5th Port Dollymount Sea Scout Group.