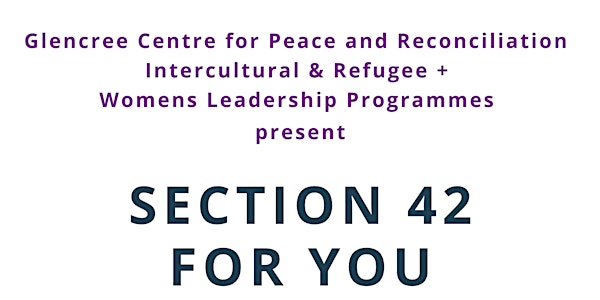 Section 42 For You
Join the conversation about Section 42, Public Sector Human Rights & Equality Duty with Glencree, featuring new poetry, Q&A and panelists!
About this event
We invite you to join us at this panel discussion of how Section 42, Public Sector Human Rights & Equality Duty can be used as a framework to insist upon access to equality across all sectors.
As part of South Dublin County Council's Social Inclusion Festival, this event will feature speakers, a live Question and Answer session and two newly commissioned pieces of poetry from poets Daniel Kamenyezi and Didier Ngaboyeka, this short event is open to all with an interest in learning how ethnic and faith minority communities can benefit from this tool.
The event will be moderated by Bashir Otukoya, Assistant Professor of Advance European Union Law at Dublin City University and panellists include: Selina Bonnie, Amina Moustafa and Omolola Adesina.
Selina Bonnie
Selina is South Dublin County Council's Disability Liaison, Access and Equality Officer. This involves assisting the council to meet its responsibilities under disability, equality and human rights legislation, and to support the provision of accessible, inclusive facilities and services across the organisation. She is an Indian / Irish disabled woman who holds a Master's Degree in Disability Studies from the University of Leeds, and a Professional Diploma in Human Rights and Equality from the IPA / IHREC. Selina has been an activist, and academic in the international disabled people's movement for more than 25 years. She is a Regional Ambassador for the NUIG Centre for Disability Law and Policy Re(al) Productive
Amina Moustafa
Amina is the Programme Manager of the Glencree Women's Leadership Programme that supports and empowers women across the island of Ireland who have been affected by political conflict. She holds a BA in Neuroscience from Trinity College Dublin and is completing a PhD in Sociology of Sport, exploring Muslim women's experience of sport. Passionate about sport, human rights and gender equality, she sits on the Board of Sport Against Racism Ireland (SARI). She is experienced in using sport as non-formal learning tool to tackle numerous social issues such as racism and discrimination. She was the Project Coordinator of the Hijabs and Hat-Tricks programme encouraging young Muslim women to play football after FIFA lifted the ban on the hijab. She taught Sport, Culture and Society for 2 years at Nottingham Trent University and has worked with sports organisations in Ireland and abroad such as FIFA Foundation, the Special Olympics, Michael Johnson Performance, Sport Against Racism Ireland and Champions Factory.
Omolola Adesina
Omolola is originally from Nigeria. Her passion for equity and equal access to justice, equality and inclusion is why she chose to earn a BCL Law with Politics degree from UCD Sutherland School of Law. She is an advocate for the education of ethnic minority groups on the power of political participation as a means to access and enjoyment of full citizenship. Omolola has been a member of RISE/People Before Profit since 2020 , a member of 'RISE Women's Caucus' and volunteers with Roots in Africa-Ireland.