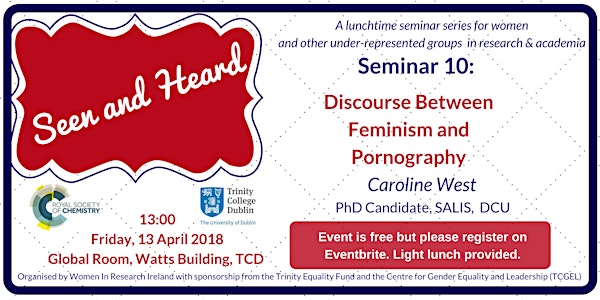 Seen and Heard Seminar 10
By Women in Research Ireland
Date and time
Fri, 13 Apr 2018 13:00 - 14:00 IST
Location
Global Room Watts Building Trinity College Dublin 1 College Green Ireland
Description
We are pleased to host our 10th lunchtime seminar on the13th April at 1 pm in the Global Room in TCD entitled "Discourse between feminism and pornography"
Sure to be an interesting talk!
A little about our speaker:
Caroline West is a DCU PhD candidate researching feminist discourse on pornography. Her work looks at the experiences of women working in the LA porn industry and how these experiences are discussed within feminist debates on pornography. She is particularly interested in the relationship between power, sex and knowledge. Her talk will look at objectivity, methodology and ethics in sexuality research.
The seminar is free but we ask that you please register. Tea, coffee and sandwiches will be served free of charge. Follow our facebook event for up to date information.
This seminar is an inclusive, QUILTBAG friendly space.
Looking forward to seeing you all there!
About the organiser
Women In Research Ireland is a group for women and other under-represented groups in research and academia in Ireland.
We aim to organise events that are accessible and inclusive:
We will provide physical access information about the venue on the event registration page. If you have additional access requirements (such as Irish Sign Language interpretation), please let us know at womeninresearchireland@gmail.com in advance of the event you wish to attend and we will try to facilitate these to the best of our ability.
All are welcome to our events and we do not tolerate discrimination based on sexuality, ethnic/cultural background, ability, socio-economic status, or any other characteristic. We strive to ensure that our events are always inclusive friendly spaces. 
If you have any suggestions or feedback, or if you would like to get involved in future events (to help organise, or to volunteer as speaker) just get in touch! We would love to hear from you.