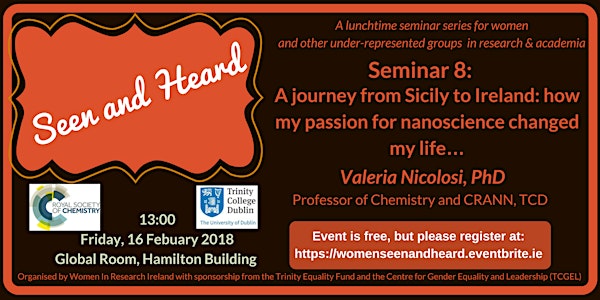 Seen and Heard Seminar 8
By Women in Research Ireland
Date and time
Fri, 16 Feb 2018 13:00 - 14:00 GMT
Location
Global Room Watts Building Trinity College Dublin 1 College Green Ireland
Description
Women in Research Ireland will be hosting the next seminar on Friday the 16th of February entitled "A journey from Sicily to Ireland - how my passion for nanoscience changed my life".
Valeria Nicolosi, Professor in the School of Physics and Chemistry in the CRANN institute, will give a personalised account about how she started her career as a woman in nanoscience and how she came to be one of the most internationally renowned and respected researchers in her field.
She is the first woman to have reached the position of Chair in the School of Chemistry since the foundation of Trinity College Dublin in 1592. She has published more than 200 high-impact-papers, including Science and Nature, and delivered more than 100 invited and plenary presentations at major conferences/institutions/public events. She is the only 5 times ERC awardee in Europe.
As such it is no surprise that her research has found direct commercial impact, being licensed to companies such as Samsung Korea, Nokia, LEGO and Ferrari Formula 1.
In November 2017, she was referred to as one of "the brightest minds on the planet", according to BBC London.
This event will take place in The Global Room in the Hamilton Building, Trinity College. Tea, coffee and sandwiches will be served free of charge. Follow our facebook event for up to date information.
The event is free, but we ask that you register on eventbrite prior to attending.
There are fully functional elevators also for ease of access. There are accessible toilet facilities in the building. If you have any additional accessibility requirements (ISL interpretation, etc.), please notify us in advance at womeninresearchireland@gmail.com.
This seminar is an inclusive, QUILTBAG (queer and questioning, intersex, lesbian, transgender and two-spirit, bisexual, asexual and ally, and gay and genderqueer) friendly space.
We look forward to meeting you there!
About the organiser
Women In Research Ireland is a group for women and other under-represented groups in research and academia in Ireland.
We aim to organise events that are accessible and inclusive:
We will provide physical access information about the venue on the event registration page. If you have additional access requirements (such as Irish Sign Language interpretation), please let us know at womeninresearchireland@gmail.com in advance of the event you wish to attend and we will try to facilitate these to the best of our ability.
All are welcome to our events and we do not tolerate discrimination based on sexuality, ethnic/cultural background, ability, socio-economic status, or any other characteristic. We strive to ensure that our events are always inclusive friendly spaces. 
If you have any suggestions or feedback, or if you would like to get involved in future events (to help organise, or to volunteer as speaker) just get in touch! We would love to hear from you.