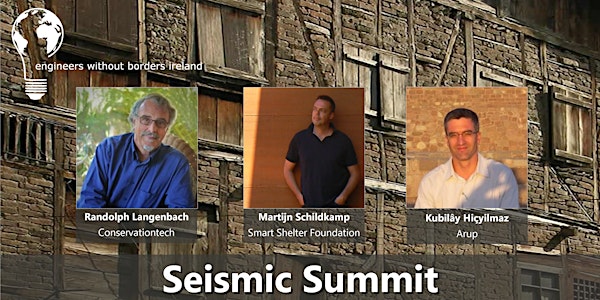 Seismic Summit
When and where
Location
Wood Quay Venue Dublin City Council Civic Offices Wood Quay Dublin 8 Ireland
Description
Engineers Without Borders (EWB) Ireland host a unique one day gathering of internationally recognised experts in the field of Seismic Resistant Construction Techniques, Post-Disaster Reconstruction and Building Conservation particularly in developing communities.
This event is part of "Build Solid Ground" a three-year project funded by the European Union (EU) which aims to inform and actively engage citizens in actions towards achieving Sustainable Development Goal (SDG) 11.
Speakers include;
Randolph Langenbach, Conservationtech
Randolph Langenbach first became known as a photographer and writer documenting the textile mill towns of New England and landscapes of the Industrial Revolution in Great Britain. His groundbreaking work "Amoskeag, Life and Work in an American Factory City", so-authored with Tamara Hareven, has remained continuously in print for over 35 years.
A former Assistant Professor of Architecture at the University of California, Berkeley he has over 40 years of experience in the field of building conservation, earthquake retrofit of historic structures, conservation of masonry buildings, post‐disaster damage assessment & repair, and has served as a consultant to UNESCO in Turkey, Georgia, India and Iran; to the World Monuments Fund in Iran and Haiti; to UN‐HABITAT in Pakistan after both the 2005 earthquake and the 2010 floods; and to the Turquoise Mountain Foundation in Afghanistan. He has documented the damage to historical structures in India from the Bhuj (Gujarat) Earthquake of 2001, the 2002 earthquake in Tbilisi, Georgia, the 2003 Bam, Iran earthquake, and the 2005 earthquake in Kashmir.
Martijn Schildkamp, Smart Shelter Foundation
An Architect, Engineer and founder of three Smart Shelter divisions with a passion for alternative materials and experimental construction techniques, Martijn has researched, designed and built numerous projects in Sri Lanka, India, Nepal and Indonesia. All of the 17 schools Martijn designed and built in Nepal survived the 2015 earthquakes and he is currently a visiting researcher at Kyoto University in Japan where they have based a research group on his school designs for Nepal. Previously Martijn was a finalist for one of the most prestigious design awards in the world, the Index Award. The theme was 'Design to improve life', and nominated was the general philosophy of Smart Shelter Foundation.
Kubilây Hiçyilmaz, Arup
Kubilây is Technical Director for large Seismic Projects with Arup working on complex performance-based structures and retrofitting buildings to improve their life-safety performance. Projects he has worked on include Abu Dhabi International Airport, Guggenheim Abu Dhabi, Channel Tunnel Rail Link, Turmenistan Oil Platform, & Twickenham Stadium. Kubilây has significant experience of working in post disaster situations within the humanitarian sector including leading teams in Haiti doing post-earthquake damage assessment and training and implementing an earthquake engineering training programme in Kashmir after the 2005 South Asian Earthquake. He continues to provide engineering review for a variety of humanitarian organisations and Universities to further the understanding of the seismic behaviour of traditional construction typologies.
Plus - Irish Premier of "ROME WAS! Ruins Eternal" a short film by Randolph Langenbach
"ROME WAS!, Ruins Eternal" is a digital short film which merges the celebrated engravings and paintings of Giambattista Piranesi and other artists in the 18th Century with still photographs of the same views of Rome to form a single animated work. It reveals both the continuity and the changes to the iconic archaeological landscapes of Rome over a quarter of a millennium and serves as a commentary on how we preserve and interpret the relics of the past in the midst of a living city.