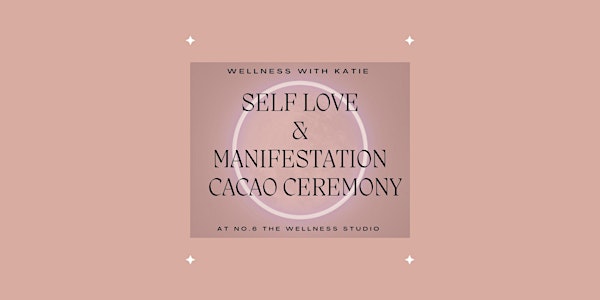 Self Love & Manifestation Cacao Ceremony
A very special event to embrace the energies of the full moon, open your heart & manifest your deepest desires.
Date and time
Sun, 5 Feb 2023 17:00 - 19:30 GMT
Location
No6. The Wellness Studio 6 John Street Y34 XY72 New Ross Ireland
Refund Policy
Contact the organiser to request a refund.
About this event
Join Katie for a soulful evening of deep rest and replenishment.
Full moons are a time of release and letting go, bringing things to light and illuminating areas of our life that need attention. 
Everything in life has a beginning, middle and end. This ceremony will help guide and support you in this transitional period and moving into the 2023 with more grace and ease. Also to help you identify what you need to let go of or release from your life.
We all live such busy lives , taking time out is so important to create more balance and harmony.
Contemplate where you are on your journey and develop a deeper connection with yourself.
The evening will start off with creating sacred space, practicing gentle breathing techniques, movement to connect more deeply with your heart space.
We will finish our time together with a beautiful cacao ceremony to open our hearts and soothe the soul. Journeying hrough a visualisation that will help you get clearer on what it is you want to manifest.
Suitable for all levels. A very special event to embrace the energies of the full moon, open your heart & manifest your deepest desires.
What is Cacao?
Cacao is the purest form of unprocessed chocolate. Also known "Food of the God's" is a superfood, which contains antioxidants, iron, calcium, and magnesium. Cacao is a good source of flavonoids, which may have beneficial effects on cardiovascular health, and theobromine, which can improve focus, sense of clarity, boost mood and energy. It also gives a sense of overall bliss and happiness.
Cacao has been used for thousands of years by indigenous communities as a form medicine for physical and spiritual healing.
How to prepare for the ceremony.
Avoid alcohol and caffeine for a few hours before the event
Have an early dinner or something light to eat, cacao works best on an empty stomach
Drink lots of water throughout the day, to stay hydrated.
Wear comfy and cosy clothing
If you have any medical condition, heart problems, take anti depressants, pregnant or breastfeeding, please let us know before the event so we can adjust your cacao to suit your needs.
I'm so looking forward to seeing you there.
Namaste,
Katie.
About the organiser
Yoga Teacher, Wellbeing practitioner and transformational trainer
I used to live a very fast-paced lifestyle. Always 10 steps ahead living on empty but somehow still managed to keep going. Juggling the social life, the full-time job and all the other activities, like most 20 something-year-olds. There really wasn't enough hours in the week for me. I  kept telling myself this was the way it was meant to be. I was physically fit on the outside from working out in the gym 6 days a week but inside I was very weak, unhappy and exhausted.
April 2015 I broke my neck in a car accident, in Australia and I had to have a spinal fusion. Suddenly my fast-paced lifestyle came to an almighty halt. I was angry, upset, bored. I couldn't go anywhere or do anything. So my mother dragged me to a yoga class, still wearing the neck brace. She kept telling me it would be good for me. I had my doubts. My perception of yoga was that it was weird and not a relevant form of exercise and definitely not my thing. How could I just lay there and do nothing. Boy was I wrong. I never forget how I felt afterwards. I literally floated out of the class, high on life. Suddenly everything wasn't such a big deal for a few hours. I was ok with everything and my current situation. So I went the following week and just fell more in love after each class. The neck brace came off and I continued doing yoga. Getting back into my routine and fast-paced lifestyle once again but things where a little bit different, yoga had changed my outlook on life physically and emotionally for the better. It definitely helped in my recovery I didn't need to see and chiropractor or physiotherapist.
November of the same year I tragically lost my youngest brother. Our whole world came crashing down. I honestly don't know how we coped or even got through those first few weeks and months but one thing me and my mother kept up was yoga. Like on autopilot we just arrived at class. We still say it was our saving grace through the tough times.
August 2016 I decided to go to India to do my 200hr teacher trainer yoga course, in Rishikesh. After my training, I traveled around the beautiful country searching for teachers and gurus to deepen my yoga practice and knowledge. I also did my Reiki level 1 and 2 out there too. After 3.5 months I came home and starting my very first class in January 2017. And I haven't looked back since. My life has completely changed for the better.
Life is a rollercoaster and it's certainly no smooth ride. But having the skills, knowledge and good people around you is golden. It helps you to cope the best you can in the tough times.
I've been educating and showing my students what I've learned through my experiences. I want to help people who want to help themselves to live their best lives too. How to become strong from the inside which automatically makes you strong on the outside. Just beginning physically strong is only temporary and it's not before the cracks start to show.
This is only the beginning but I look forward to the journey ahead, whatever that might be.
Katie x