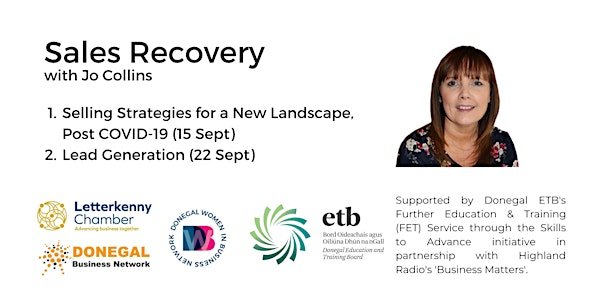 Selling Strategies for a new landscape, Post Covid 19 - Jo Collins
Jo Collins of Sales Performance - A 4 step process that will qualify prospects and ensures you spend time and energy with potential clients
About this event
Selling has become more challenging. For that reason it's important to consider your sales process and sales plan for your business.
The key goal of this workshop is to help you establish a sales plan that examines 3 areas of your business.
We will explore ideas and suggestions on how to create and action a plan that focusses on driving sales.
I will share a 4 step process that will qualify prospects and ensures you spend time and energy with potential clients.
In sales, the questions we ask will help with our sales results. I will share 2 different tips on questioning to uncover customer needs, which will help you connect & build rapport with your prospect and customers.
In an environment where habits and sales practices have changed, Traditional face-to-face interactions have given way to sales by video conference, webinar and other means.
How are you adjusting your sales process to meet these demands and changes?
To learn more join us on the 15th & 22nd September.
This is a fully funded course which means a cost saving of €125 for your business.
Our promise, a session with practical solutions with a sharp focus on increasing revenue.
_____________________________________________________________________________
The above will be a 1 hour session, 45 minutes of content and 15 minutes for questions. Jo will use ZOOM to deliver this meeting.
All registrants will be sent the link as it is a limited capacity meeting specifically for certain Donegal Business Networks and guests
From Donegal Business Network, Letterkenny Chamber and Donegal Women in Business Network, supported by Business Matters at Highland Radio and ETB.
"Donegal Business networks working in harmony"
We are committed to supporting your business, and are investing in a range of engaging guest speakers to help grow your business.