About this Event
'Supporting Young People on the Autism Spectrum in Youth Theatre' will explain what autism is and its impact on a young person's behaviour and experiences within the youth theatre setting. The seminar aims to equip youth theatre leaders with the information and strategies they need to build their confidence, develop their inclusive facilitation practice and support young people on the autism spectrum within their youth theatres.
We will provide a variety of virtual learning experiences! Across the day, we'll move between presentations, panel discussions, group discussions, Q & A sessions and interactive experiences. We also look forward to welcoming a variety of expert voices from AsIAm, the National Autism Charity; youth theatre leaders; and young people who are on the autism spectrum and have graduated from their youth theatres. Come and join the discussions!
This event will also include the launch of a new resource, A Handbook for Youth Theatre Facilitators: Supporting Young People on the Autism Spectrum, developed in partnership with AsIAm.
This seminar is aimed broadly at the facilitators, leaders and young leaders aged 18+ who are engaged in affiliated and developing youth theatres.
For more information, contact Rhona Dunnett (Youth Theatre Ireland) at rhona@youththeatre.ie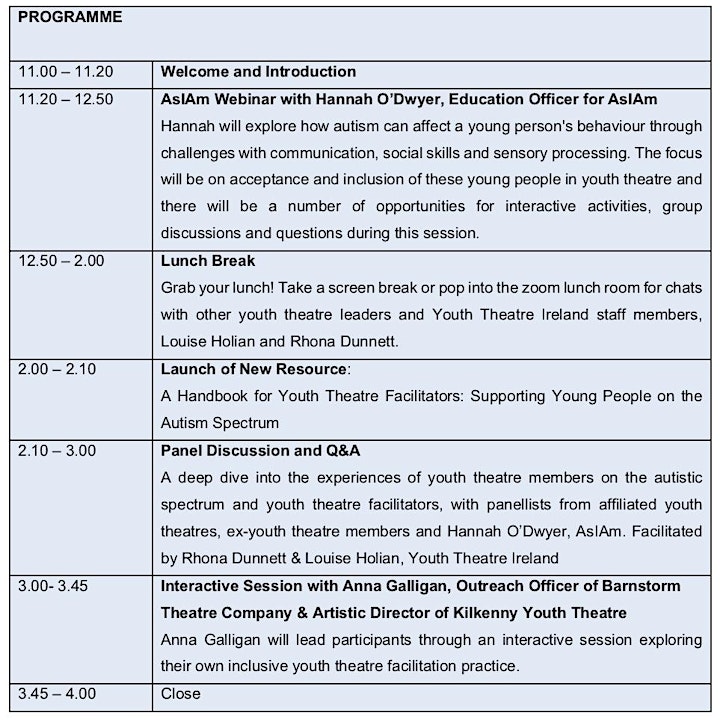 Registration
This a free event but you will need to register in advance to attend as spaces are limited.
Location
This online seminar will take place on zoom. Ticket holders will be notified of zoom meeting details after registration.
Partners
This seminar is delivered in partnership with AsIAm, the National Autism Charity in Ireland, and in collaboration with Anna Galligan, Outreach Officer, Barnstorm Theatre Company.
This seminar and the accompanying resource has been generously supported by the Creative Ireland Programme.