Join us for an online seminar, 'Supporting Young People on the Autism Spectrum in Youth Theatre' on Saturday, May 15th!
About this event
On Saturday, May 15th Youth Theatre Ireland will run a second 'Supporting Young People on the Autism Spectrum in Youth Theatre' seminar which will be delivered online in partnership with Hannah O'Dwyer, Training Manager and Education Officer, AsIAm (the National Autism Charity) and with the participation of Anna Galligan, Youth Theatre Facilitator, Kilkenny Youth Theatre.
The seminar will explain what autism is and explore its impact on a young person's behaviour and experiences within the youth theatre setting. Participants will take part in an interactive webinar in the morning and then join seminar facilitators in the afternoon for a clinic session. Discussions and guidance will draw on the resource 'A Handbook for Youth Theatre Facilitators: Supporting Young People on the Autism Spectrum' which can be downloaded from the Youth Theatre Ireland website. The seminar aims to equip youth theatre leaders with the information and strategies they need to build their confidence, develop their inclusive facilitation practice and support young people on the autism spectrum within their youth theatres. We will provide a variety of virtual learning experiences! Across the day, we'll move between presentations, group discussions and Q & A sessions. Come and join the discussions!
This seminar is aimed broadly at the facilitators, leaders and young leaders aged 18+ who are engaged in affiliated and developing youth theatres.
For more information, contact Rhona Dunnett (Youth Theatre Ireland) at rhona@youththeatre.ie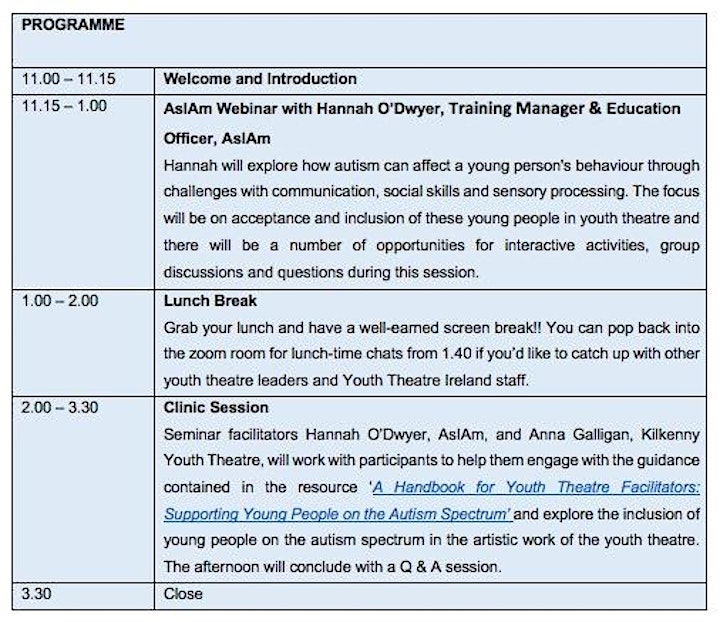 Registration
This a free event but you will need to register in advance to attend as spaces are limited. You can book your ticket on this Eventbrite page and Youth Theatre Ireland will be in touch to confirm your registration for the event.
You can choose to attend both sessions or book separately for the morning and afternoon seminar sessions. Everyone attending the afternoon 'Clinic' Session' will need to have attended the 'AsIAm Webinar' first (either that morning or as part of the Oct 10th 2020 seminar).
Youth theatre leaders from affiliated and developing youth theatres, as well as organisation and individual members will be prioritised in the booking process.
Location
This online seminar will take place on zoom. Ticket holders will be notified of zoom meeting details after registration.
Partners
This seminar is delivered in partnership with AsIAm, the National Autism Charity in Ireland, and in collaboration with Anna Galligan, Outreach Officer, Barnstorm Theatre Company and Youth Theatre Facilitator of Kilkenny Youth Theatre.
This seminar and the accompanying resource has been generously supported by the Creative Ireland Programme.