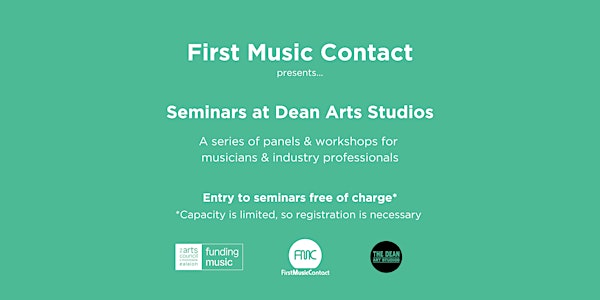 Seminars at Dean Arts Studio: SelfMade, 30th November
First Music Contact presents Seminars at Dean Arts Studio: A professional development series for musicians and their teams.
When and where
Location
The Dean Arts Studio 4 Chatham Row Dublin Ireland
About this event
FMC are expanding our professional development series to 'in-real-life' activity in our new home at The Dean Arts Studio with free, once-a-month professional development workshops.
The Seminars at Dean Arts Studio series will be first-come, first-served free workshops for musicians and those working with artists to help develop their careers.
We will also be using Seminars at Dean Arts Studio to offer a platform to other organisations in the Irish music community.
The first of these panels will take place November 30th at 6.30pm and is hosted by SelfMade.
Stage Craft: Getting Gig-Ready
Featuring Karla Chubb (Sprints), Laurence Kapinga (Negro Impacto), Rafino Murphy (Uly), plus panelists TBC
What are the ins and outs of developing your live music career? From playing your first show, understanding possible technical setbacks, and overcoming nerves, to creating an unforgettable connection with the audience. In this workshop, we will sit down with Karla Chubb, singer and guitarist for NME-rated punk band, Sprints, Laurence Kapinga (one half of Dundalk's finest duo, Negro Impacto) and musician & resident artist at DAS, Rafino Murphy (Uly). Coming from differing sonic worlds, we will explore the fundamentals of getting to grips with the stage, building confidence and creating connections with the audience, as well as balancing the pressures of a thriving live career.
Pre-registration is essential, as capacity is limited at 50 people.
First Music Contact works to support musicians and their teams as they grow their professional career in a talent development structure through their mentor program, their regional development program, breakingtunes.com, Ireland Music Week and Music From Ireland export activity.
FMC is funded by Arts Council & Culture Ireland.