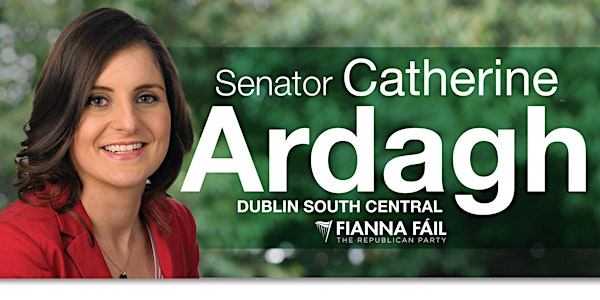 Senator Catherine Ardagh Fundraiser and Super Draw Breakfast
When and where
Location
Russell Court Hotel 25 Harcourt Street Dublin Ireland
Description
Friends,
I hope you are well and in good form.
I wanted to take this opportunity to share some updates of my work in Seanad Éireann and to ask you to help me as I continue to prepare for the next General Election.
As you are likely aware, I missed out on a Dáil seat in the recent General Election by just 35 votes in Dublin South Central. This was the smallest margin any candidate was defeated by in the country. I was however, delighted to be subsequently elected to Seanad Éireann and appointed Fianna Fáil leader of the Seanad and Spokesperson for Social Protection.
I have used this position to raise issues affecting people in Dublin South Central and beyond. I have raised issues relating to health, law and order, transport, justice and many more. I have also redoubled my efforts to meet as many people across Dublin as possible so that I am aware of the issues affecting them.
As I continue to prepare for the next election, whenever it may be, I am tasked with organising public meetings, connecting with my constituents through leaflet drops and to ensure that I remain contactable if they feel I can be of assistance.
In order to continue campaigning effectively, I am holding a special super draw breakfast on 17 November in the Russell Court Hotel, 25 Harcourt Street, Dublin 2 at 8.00am. Micheal Martin, Uachtaráin Fianna Fáil, will be the guest speaker at the event and he will be joined by other members of the Parliamentary Party. Tickets for this event cost €100 and you will be entered into the Party's annual super draw which has a prize fund of more than €50,000.
I thank you sincerely for all the help and support you've given me to date and hope you will be in a position to support this event. I look forward to meeting you on 17 November.
Best regards,
Senator Catherine Ardagh