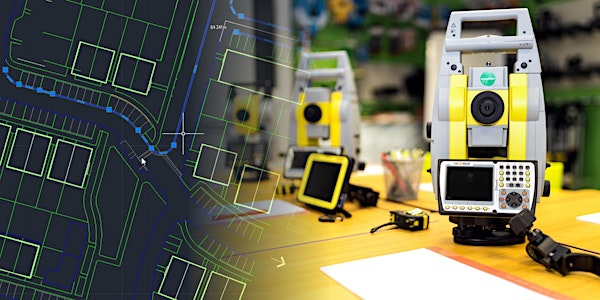 Setting out and Surveying With Total Station - Training Course
Intensive Total Station surveying training course focused on trainee's requirements!
Date and time
Thu, 23 Mar 2023 09:00 - 13:00 GMT
Location
Hitechniques Ltd. Unit 17 Block Q, Grants Road Greenogue Business Park D24 N252 Rathcoole Ireland
About this event
Learn how to  quickly set up the total station, how to station and orient to a direction and backsight point, set out lines and levels for buildings, kerbs, manholes, gullies. Use Free-stationing to avoid obstacles when setting out, calculate areas and volumes, and more.  Attend Hitechniques Total Station Training Course and be more confident on the site.
NOTE: Although the training course is carried on GeoMax total stations with MicroSurvey FieldGenius and GeoMax X-PAD software, the class gives you firm base for using total station of all different brands.
Who should attend
If you work on a construction site in any capacity that involves setting out or surveying for new buildings you should know how to use a total station. This course will cover all you need to know to get started using a 2-man or 1-man robotic instrument.
What you will learn
• How to quickly set up the total station
• How to station and orient to a direction and backsight point
• Resection/free stationing from known points
• Setting out lines and levels for buildings, kerbs, manholes, gullies
• Offsetting lines for setting out
• Setting out site control
• Preparing a drawing for uploading to the total station
• Uploading drawings and points
• Sorting problems with uploading and connecting to the total station
• Surveying lines and features
• Prisms and reflectorless surveying
• Prism constants and offsets
• Basic checks on your total station
The Instructor
Philip Hanrahan B.E., B.A., MIEI  has 35 years of experience in surveying instrument handling:
- 6 years as a site engineer on civil construction projects, including roads, sewerage schemes, housing developments, industrial buildings.
- 27 years demonstrating and training users in surveying instruments
- 2 years lecturer in Engineering Surveying, Trinity College Dublin, including design of the Engineering Surveying module in the Civil Engineering degree course and approval by Engineers Ireland
Program
09:00 – 11:00 Setting out – Freestationing, setting out points & lines in the surrounding area, recording set out points for quality control
11:00 – 12:00 Surveying – set up over a point, survey lines, features & utilities, move to a forward station, continue surveying.
12:00 – 13:00 How to set up site control, prisms & prism constants, georeference, surveying essentials
Class size
To ensure everyone's safety we're reducing the number of attendees and making few more changes. You can read more about them on our website: https://hitechniques.ie/training/ or contact us directly at 01 257 2323 to find out more.
Cancellation Policy
Cancellations of places within 2 working days prior to the commencement of the course will result in the full fee being charged. Cancellations made between 2-5 working days of course commencement will result in a 50% charge. No fee will apply when cancellations are made more than 5 working days in advance of the course.



About the organiser
At Hitechniques we work to create better opportunities for construction workers and businesses in Ireland.
We provide GPS/GNSS and Total Station training courses as well as on-site and on-delivery training for individuals and corporate groups.