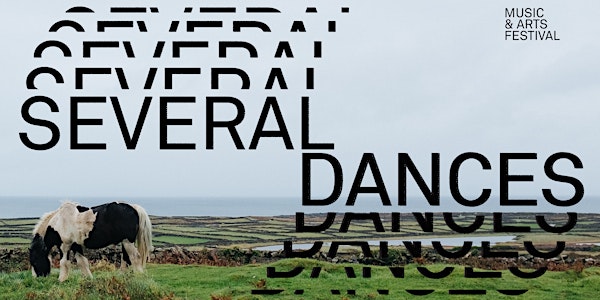 SEVERAL DANCES
Bus tour, music and arts festival. Sunday, June 6th, 2021, Ennistymon, Co Clare.
When and where
Location
Pot Duggans New Road Ennistimon Ireland
Refund Policy
Contact the organiser to request a refund.
About this event
SEVERAL DANCES is a bus tour, day trip, music & arts festival all rolled into one.
Ennistymon is a beautiful Irish town with a great food scene, some lovely old pubs & intimate venues.
Buses will leave Dublin the morning of Easter Sunday and bring everyone home later that night, with a full day of activities in between. There will be entertainment on each bus. Hugh Cooney will tell stories on one of them, a flower-headband workshop will take place on another. Once we land in Ennistymon there'll be 2 outdoor parties with DJs, 1 area of live music (working on a second) an Irish dance céilí session, a guided nature walk that circles the town through the Fairies Glen (approx 30 mins), poetry, food, delicious pints & lots more. The main venue is called Pot Duggans, it's stunning, with a river and trees / beautiful nature all around. Dreamy!
AND you get to wake up in your own bed after all this. No dealing with wet tents or other unsavoury things.
There's also an optional jaunt up to see the Cliffs of Moher, more on that soon.
TELEPHONES & DYAD AREA (DISCO / BOOGIE / AFRO / HOUSE / CLUB)
ROSITA MOULIN, EMA, HELEN O'DEA, BRIEN, NEV JIO & PAPA LOU
This will be at Pot Duggans which is beside a river surrounded by trees & nature. We're removing the furniture from the main outdoor area to turn it into a dancefloor / outdoor party space.
WOWEEMBEEM & THE RNB CLUB AREA (REGGAE, RNB / WORLD / HIP HOP)
MY NAME IS JOHN, MOVING STILL, PETER CURTAN, MANUS MALONE, HAYLEY CONNOLLY, PABLO SANTOS, DJ KIXX, HANDSOME PADDY
This will be out the back of cute local pub Daly's. Laneway party vibes w/ bunting, lights, a set a' decks & a feeling bai.
LIVE (FOLK / TRAD / POETRY / OTHER)
JOHN FRANCIS FLYNN, KU KILLIAN, HUGH COONEY STORIES & CEILI, MAURICE SCULLY READING, FARAH ELLE , JACKIE BEVERLY, OJO
These will take place in a number of spots. One of them will be the basement space in The Cheese Press. This is run by Clare local Sinéad who speaks a number of languages, including Tibetan, no less. John Fancis Flynn is a fast rising folk singer of the Irish tradition. Recent support slots for the likes of Lankum show the kind of path he's on. He is an amazing performer, but sure, so is everyone on our lineup. And they all have the loveliest bottoms. Worth the price of admission alone.
PLUS GUIDED NATURE WALKS, FLOWER HEADBAND WORKSHOP, FOOD, BELLS, WHISTLES ++
There'll be something happening at all times throughout the day, ranging from chill talk stuff to full-tilt-dance-your-tits-off shenanigans. And everything is within 4 mins walk of each other. It is going to be absolutely CLASS.
Thanks & all the best,
PS follow us on instagram & join us on whatsapp.
— Louis
DOING GREAT FEELING GREAT AND LOOKING REALLY GREAT YEEHAW