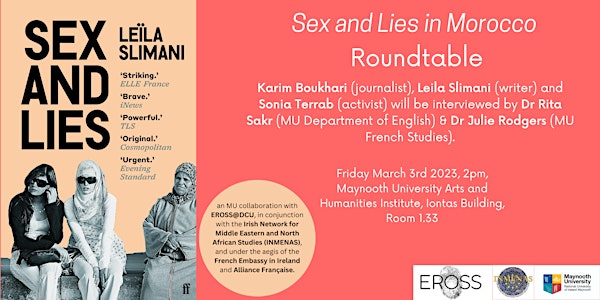 Sex and Lies in Morocco Roundtable
Karim Boukhari (journalist), Leila Slimani (writer) and Sonia Terrab (activist) will be interviewed by Dr Rita Sakr and Dr Julie Rogers
When and where
Location
Iontas Building 1.33 Iontas Building, first floor Ireland
About this event
Karim Boukhari (journalist), Leila Slimani (writer) and Sonia Terrab (activist) will be interviewed by Dr Rita Sakr (MU Department of English) & Dr Julie Rodgers (MU French Studies).
This event is an MU collaboration with EROSS@DCU, in conjunction with the Irish Network for Middle Eastern and North African Studies (INMENAS), and under the aegis of the French Embassy in Ireland and Alliance Française.
Founded in September 2019 by filmmaker Sonia Terrab and writer Leila Slimani, following their manifesto "We, Moroccans, are outlaws", the Moroccan Outlaws NGO is focused on the rights of youth, women, and the LGBT+ community. It has a strong audience on social media (+150k followers and growing, with a reach of millions), provoking debate, challenging long-held taboos and stigma, raising awareness on gender justice and sexuality issues. It was awarded the "Simone de Beauvoir Prize for Women's Freedom", on January 9th, 2020, which was presented in Paris to Sonia Terrab and Leila Slimani on behalf of the organization. Its goal is to open an important national debate and make an appeal to the parliament and institutions to demand the repeal of arbitrary laws which penalize individual freedoms in Morocco: abortion, sexual relations outside wedlock, and homosexuality. Theses are laws that were inherited from French colonizers and cause Moroccans to suffer daily, especially the poorest and most vulnerable who are subjected to pressure, extortion, and humiliation.
Leila Slimani is a Franco-Moroccan writer and journalist. She is also a French diplomat in her capacity as the personal representative of the French president Emmanuel Macron to the Organisation internationale de la Francophonie. Her first novel Dans le Jardin de l'ogre, published in English as Adèle, tells the story of a woman who loses control of her life due to her sexual addiction. Slimani got the idea for her story after seeing the Dominique Strauss-Kahn unfolding news. In Morocco it received the La Mamounia literary award. In France, in 2016 she was awarded the Prix Goncourt for her novel Chanson douce (Lullaby, trans. Sam Taylor) received the 2019 British Book Award). In September 2019 she created the Moroccan Outlaws NGO with filmmaker Sonia Terrab. Her book Sexe et mensonges: La Vie sexuelle au Maroc (Sex and Lies: Sex Life in Morocco, Faber 2020) compiles the accounts of many women she had interviewed while on a book tour throughout Morocco.
Sonia Terrab is an author of two published novels as well as a creative filmmaker. She directed several documentaries such as Shakespeare in Casablanca (2017) produced by Nabil Ayouch, and web series like Marokkiat (2018). Through her work, she repeatedly breaks social taboos and draws attention to social problems such as sexual illiteracy, sexual harassment, rape, the promoting of men's roles in support of gender equality in both public and private spheres, and marginalization amongst Moroccan youth. Together with writer Leila Slimani, she founded in 2019 "Moroccan Outlaws" (Collective 490): an organization focused on the rights of youth, women, and the LGBT+ community which has an extensive and powerful social media community, and aims to change discriminatory laws in Morocco.
Karim Boukhari, long-time journalist, doctor, poet, novelist, man of culture and cinema, progressive and activist of the Moroccan avant-garde, has been the editor-in-chief of several magazines, including the weekly magazine "Telquel", flagship of the independent press in Morocco. He is now managing the monthly history magazine: "Zamane". He also directed his first short movie "The Wig" in 2015, which has been shown in many festivals, including the official selection of the Clermont-Ferrand International Short Film Festival, the Stockholm International Film Festival, the Festival de Cine Africano-FCAT, and the exhibition "Habibi" at the Institut du Monde Arabe in Paris. Followed by "Aziya" in 2020, his second short movie, selected in the Fespaco (Festival panafricain du cinéma et de la télévision de Ouagadougou), Tangier National Film Festival and Alexandria Short Film Festival.