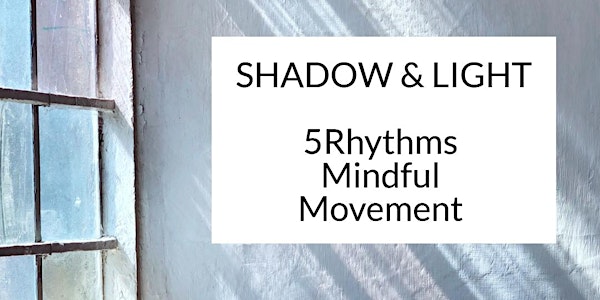 Shadow and Light - a 5Rhythms one day workshop in Limerick City
5Rhythms Dancing is a great way to explore your relationship to shadow and light. It is a creative, healing, movement meditation practice.
Date and time
Sun, 16 Apr 2023 11:00 - 17:30 IST
Location
Dance Limerick Studio 1− 2 John's Square V94 E6H2 Limerick Ireland
About this event
A 5Rhythms Mindful Movement - One Day Workshop in Limerick City
Would you like to explore through your body, ways of moving with the light and fluidity in your dance, and move with the shadow, the stuckness that can also be there too?
Light to Shadow to Light to Shadow.
In and Out.
Up and down.
It is all a Dance.
Moving together, exploring this map, grounded in the embodied, physical practice of the 5Rhythms.
Flowing - Ineria - We stop moving
Stacatto - Tension - We stop feeling
Chaos - Confusion - Loose control
Lyrical - Space Out - We stop being here
Stillness - Numb - We stop Breathing
These explorations will be through your body, and not through your head.
It really is a great process to experience how tension or numbness presents itself physically in your body.
Join us in Limerick City on April 16th.
Bring yourself to the floor, to explore how your body can awaken to the present moment through dance, and movement as a creative, artistic expressive form of meditation.
Beginners welcome, just bring your curiosity. Experienced dancers, this is a chance to deepen your practice in community with others.
Pre-booking is essential.
Full Cost: €75
Concession rate: €65 (there are five concession tickets available on a first come basis)
Facilitator: Jenny Fahy trained as a 5Rhythms teacher with Gabrielle Roth in 2007 in New York, and has been dancing this practice since 2000. She is also very experienced in group facilitation and teaching and lecturing in the field of Social Studies. She is creative, fun, has a strong presence and is a lover of great music.
Learn more here:
https://www.facebook.com/5rhythmswithjennyfahy
About the organiser
Jenny is passionate about personal change and social impact and she seeks to create this change through the organisation of events, bringing people together, facilitating and holding space, where meaningful time can be spent.