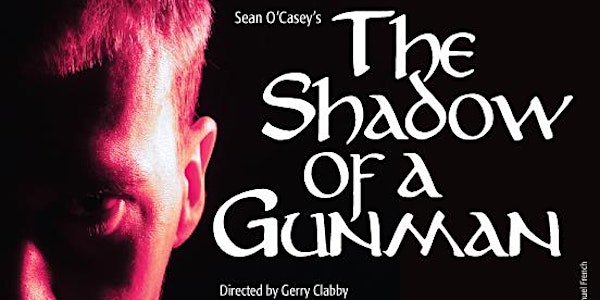 Shadow Of A Gunman
The Shadow Of A Gunman by Sean O'Casey directed by Gerry Clabby
When and where
Location
Dalkey Castle & Heritage Centre Castle Street Dalkey Ireland
About this event
THIS PAGE IS FOR THE CONSESSION PERFORMANCE ON TUESDAY 19th ONLY REGULAR TICKETS AVAILABLE HERE
As we remember the events of a century ago which led to the emergence of the Irish Free State, Dalkey Players present Sean O'Casey's The Shadow of a Gunman at Dalkey Town Hall from Tuesday 19th November to Friday 22nd November.
The Shadow of a Gunman is one of O'Casey's three Dublin plays all of which are set in the tumultuous period between 1915 and 1923. The other Dublin plays are of course The Plough and the Stars and Juno and the Paycock. All these plays are set against a background of violence and political upheaval but are not really concerned with politics. Rather in The Shadow of a Gunman O'Casey is concerned with the effects of the War of Independence on ordinary people as they cope with its impact on their lives.
In such turbulent times, mistakes can be dangerous. When Donal Davoren, a poet and dreamer comes to live in a Dublin tenement he is mistaken for an IRA gunman and is beguiled by the attention this results in – "What danger can there be in being the shadow of a gunman" he asks. But in such times there is danger everywhere and soon violence encroaches, turning everything upside down, and ending in tragedy. As Seamus Shields says, in a remark that can be applied to any modern conflict, - "It's the civilians that suffer…". And it's the ordinary people, and particularly women, who often bear the burden of conflict, living through it, coping with the losses it inevitably brings, and all the while hoping for better days to come. To all this O'Casey brings his prodigious talent as a playwright so that we find ourselves laughing and in tears as the story unfolds.
Like all great drama this is a universal story, a story of endurance in the face of conflict and upheaval, with as much relevance today as a century ago. It promises to be a great night's theatre.