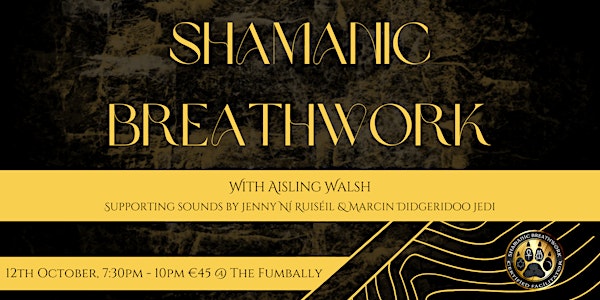 Shamanic Breathwork Journey
A deeply transformative journey through breath and sound. Allow yourself to feel, to be held and supported as you journey within.
When and where
Location
The Fumbally Fumbally Lane D08 HFF2 Dublin 8 Ireland
Refund Policy
Contact the organiser to request a refund.
About this event
What is Shamanic Breathwork?
Shamanic Breathwork® is a transformative process, that invites an opportunity for deep healing through a simple, conscious, connected breathing technique, coupled with a chakra-attuned sound journey. You will be invited into a safe, loving container, that will be beautifully held by experienced healers. From there, you will be guided on a journey that will allow you the opportunity to connect more fully with your inner landscape, transform old patterns, release stuck emotions and energy, and free up space within your being to allow in more love, light, and clarity on your path.
Shamanic Breatwork® was developed by Linda Star Wolf, who synthesized modern breathing techniques & integrative psychological principles with ancient knowledge of shamanic practices around the world. In indigenous cultures, the shamans were the ones who walked between the worlds. They were healers, medicine men, and medicine women. We all have access to these other worlds, through our own inner landscape, our soul. The Shamanic Breathwork® process allows a space for you to access your own inner shaman who can guide you on this path of life. The breath is the gateway. If we want to make changes in our lives, we need to expand our consciousness and deepen our connection to self. `This breathwork journey is designed to allow you space to reach those places and bring forth the wisdom that already exists within.
What to expect?
Once you arrive, the process will be explained and there will be time to answer any questions you may have. As a group, you will be invited on your own individual journey. You will be lying down during the journey and we will guide you into a deep meditation. From there, you will begin the breathing technique and invite yourself to drift while a chakra-attuned music journey guides you. We will support your journey with sound healing, energy work, and bodywork, with consent. Towards the end of the journey, we will call you back to your body and there will be some time to express your experience artistically. Finally, we will meet in circle for sharing and a closing mantra to ground and gather up the lessons.
Your Space Holders:
Aisling Walsh
Shamanic Breathwork Facilitator, Reiki Master, Yoga Teacher, Training Shamanic Astrologer
I'm honored to have the opportunity to share this space with you and invite you into a world of transformation and change. I spent many years working for big tech and experienced a deep burnout due to the pace of work and life. For the last 6 years, I have been committed to my own healing journey and breaking cycles that have been with my family for generations. I spent 3 years in psychoanalytic therapy which was profound, however, it left me with a lot of energy stuck in my body. I regularly practiced yoga and various energy healing modalities, but something was missing. After my first shamanic breathwork session, I found I struck gold. I was able to release and reprogram so much within myself in just one session. I knew I had to dive deeper into this work and was blessed in 2020 with the chance to train in Ubud, Bali under Levi Banner and Linda Star Wolf.
Much of my own inner work has been surrounding addiction and trauma and it's my soul calling to hold space for others who find themselves on a similar journey. Walking the shamanic path has been one of incredible change and connectedness and continues to teach me every day. We have all the tools we need for change within us. This work is about remembering who we are in our truest essence and creating a safe space to dive into the depths of our being and uncover our own gold.
The space will be gratefully supported by:
Jenny Ní Ruiséil
Jenny is an Irish yoga teacher, musician, mentor and mentor who has spent the past 6 years travelling, exploring and integrating the traditional teachings of traditional tantric hatha yoga & ayurveda into her life. She also shares the magic of Bhakti yoga, a devotional practice accessed through chanting and group singing.
She is passionate about sharing the beauty and healing power of these practices as a means to restore balance between mind & body, empowering students and clients to step into the most vibrant version of themselves, and embrace the contrast of life througg heart-based living. Her vision is to help clients and students learn to cultivate more harmony within their lives by addressing the mind/body/spirit complex as a whole.
Marcin Stanek
Certified Sound Therapist, Shamanic Practitioner
Music and sound are and always have been an integral part of his life. Since his teenage years, he was fascinated with didgeridoo, sound synthesis, and the vibrational nature of sound. This passion brought him to the world of Sound Healing, conscious and intentional use of sound frequencies and sonic vibrations to induce and support the healing process.
He has spent years studying how different sound frequencies can induce certain states of consciousness and put mind and body into total relaxation.
He explored and experienced how sound, movement, breath, and voice can help us to move and release energies, memories and emotions stored deeply on a cellular level in our bodies.
Alongside he has been studying shamanic approach to the use of sound, breath, movement, and intention.
In his Elemental Sound Journeys, he plays didgeridoo, shamanic drum, gongs, flutes, singing bowls, bells and combines them with sounds of Nature.
"Music is my Medicine"
Other things to note:
Limited props will be provided. If possible, please bring a yoga mat, blanket, blindfold/eye mask and something to sit on. Please hydrate well before the event.
"By Transforming Ourselves,
We Transform the World"
Linda Star Wolf
One Breath - One Tribe - One Love
Spaces will be limited. If you have any questions please email:
aislingmarywalsh@outlook.com
Testimonials:
Blog post by Deniz Reno - The Fearless Nomad - 2020
Feedback from participants, September 28th, 2022:
"The Shamanic Breathwork Aisling held was so profoundly rich in depth and consideration. I could feel the transformation being brought forth, even from earlier in the day, the medicinal magnetism of this group healing was so powerful. The accompanying musicians and space holders aided my journey with every stroke and key. The container was so carefully attuned, that my psyche could relax into its holding to journey deep. Meeting my shamanic landscape to reclaim power and memories, greeted by the Irish Goddess' for guidance and advice. Mourning, keening, spiral movement, shaking and serpentine rising were all coaxed into creation through my own breath. I felt very clear, spacious and connected afterwards. I can soundly say the Shamanic Breathwork holding with Aisling, was as powerful as some of my plant medicine journeys. I felt so safe before, during and after this healing experience. I am very excited to attend again and witness the waves of evolution, that breathwork brings to each courageous container.
M.M"
"Pure magic! Aisling hosted the first Shamanic Breathwork gathering in Ireland and I don't know what I loved most about it…the community, the facilitators, the space, the music, the vocals, the art, the release, leaving feeling I have experienced a shift, witnessing the release and shift for others. So much gratitude for the entire journey!
As a first time mother, four months postpartum, this workshop came at a time I needed it the most. It allowed me to take stock and ceremoniously settle into this new life role. I felt it helped heal and thank my body for growing and birthing my little dude, reflect on the whole journey into motherhood, and simply be kind to myself. And the most perfect part - I got to do this surrounded by the most gorgeous group of friends, old and new.
Just a beautiful evening from start to finish. I feel lucky to have been part of the start of something very special. Thank you, thank you, thank you!! x
B.C.B"