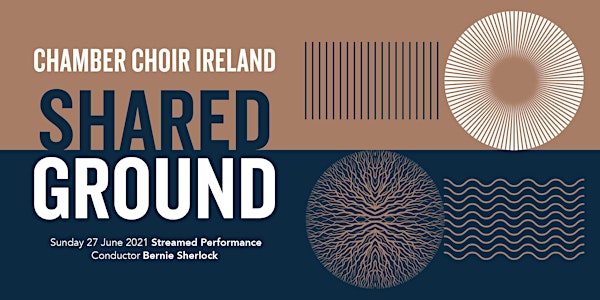 Shared Ground | Chamber Choir Ireland with Guest Conductor Bernie Sherlock
Chamber Choir Ireland return for another evening of beautiful choral singing streamed directly to the audience's homes
Refund Policy
Contact the organizer to request a refund.
About this event
Chamber Choir Ireland and guest conductor Bernie Sherlock are delighted to present Shared Ground, a wide-ranging programme which highlights our connection to land and home, as well as to each other.
The concert's title comes from its centrepiece, the Irish premiere of Shared Ground by English composer Alec Roth. Roth's setting of six poems by Vikram Seth was composed whilst house-sitting in the writer's home, once belonging to 16th-century poet George Herbert.
The programme is bookended with spirituals Deep River (arr. Michael Tippett) and Swing Low, Sweet Chariot (arr. Keith Roberts), in a tradition that has long imagined a shared ground as the object of human hope. Sarah Rimkus offers a response to enforced shared ground in Uprooted, a setting of interviews with two Japanese-American women who were re-located as part of America's World War II internment policy, and a defiant response to the violation of ground is presented in Juris Karlsons' Rotala, which joyfully celebrates Latvian tradition in defiance of Soviet annexation.
Ground transcends time in Ian Wilson's setting of Deirdre Brennan's beautiful poem Bealach Conglais – Baltinglass, named for the small Wicklow town where the present shares ground with an historically and archaeologically rich past. In Sügismaastikud (Autumn Landscapes), Estonian composer Veljo Tormis explores the discovery of new lands and their peoples through seven gorgeous Autumn miniatures, composed after visiting Hungary and meeting Zoltan Kodály in 1960, and reflecting the two composers' shared love of nature and of country.
Pre-recorded in the atmospheric surroundings of the All Hallows chapel, the concert will be available to view for a week, from 8pm on Sunday 27th June.
Programme (c. 55min):
Deep River (from A Child of our Time) arr. Michael Tippett (UK, 1905-1998)
Uprooted - Sarah Rimkus (USA, b. 1990)
Shared Ground - Alec Roth (UK, b. 1948)
Rotala (from Neslegtais gredzens) - Juris Karlsons (Latvia, b. 1948)
Bealach Conglais (Baltinglas) - Ian Wilson (Ireland, b. 1964)
Sugismaastkud (Autumn Landscapes) - Veljo Tormis (Estonia, 1930-2017)
Swing Low, Sweet Chariot arr. Keith Roberts
Tickets are priced at €10, with CCI absorbing all booking fees. If you wish to support the work of CCI further and to make a donation, we would be most grateful. The option to add a discretionary donation of your choice is available on the ticket booking page.
PLEASE NOTE: IF YOU ARE BOOKING MULTIPLE TICKETS FOR YOURSELF AND/OR OTHERS TO VIEW SEPARATELY, AN INDIVIDUAL EMAIL ADDRESS MUST BE PROVIDED FOR EACH TICKET TO ENABLE THE TICKET HOLDER TO VIEW THE CONCERT.