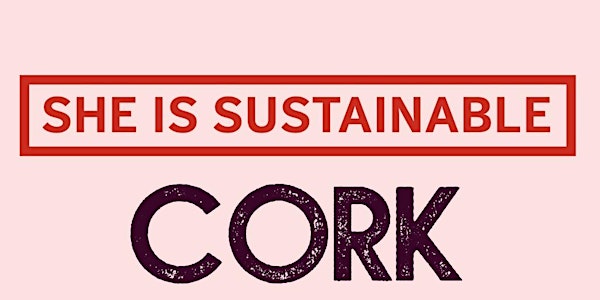 She Is Sustainable Cork
She Is Sustainable Cork: A Place for the people of Cork to discover Cork women changing the world.
When and where
Location
Western Gateway Building UCC Room G.05 Western Gateway Building UCC Western Road Cork Ireland
About this event
She Is Sustainable is coming to Cork. This is a free volunteer-led event to be held in the Western Gateway Building at University College Cork.
It started with She Is Sustainable: London in February 2016, a two-day gathering for women working in sustainability, allowing women to share their stories and take part in discussion sessions on all aspects of women's work and life. There have been eight events since, including a Dublin event in August 2018.
This event celebrates women working in sustainability in Cork. We will have over a dozen speakers from various different backgrounds and professions. The event is open to all, not just women, and we would love to see you there.
Here is a list of the speakers, moderators and organisers:
Rosemarie MacSweeney (opening remarks & organiser) International Energy Research Centre Rosemarie began her career in architecture in the 1990s, but has more recently been working in academia and in research at CIT, UCC, CRNI, and now the IERC, International Energy Research Centre at Tyndall National Institute. Her work interests include sustainable buildings and sustainable energy and resource use. Outside of the office she loves music, vintage and charity shops, and arts and crafts. Her children, Sadhbh and Fiachna are her inspiration and motivation.
Caroline Hennessy (speaker) BiblioCook Journalist, broadcaster & author Caroline Hennessy set up the award-winning Bibliocook:All About Food in 2005. Secretary of the Irish Food Writers' Guild, a McKennas' Guide Editor & a Ballymaloe graduate, she founded the Irish Food Bloggers Association to promote food blogging, Irish food and small Irish producers. Shelives in a nineteenth century country cottage, is a dedicated charity shop user and is committed to no waste principles - which may mean that her small girls may find uneaten school lunches 'recycled' at supper time.
Eimear Delahunty (speaker) Foodcloud Eimear is Charity Network Manager for the FoodCloud Hubs. She has worked with FoodCloud since 2015, and has a key role in improving the Hubs operational effectiveness, managing the charity support team and supporting communities to develop local solutions to local issues using the valuable resource of surplus food. FoodCloud work to create a more sustainable food industry in Ireland.
Sinead Crowley (speaker & organiser) Cool Planet Experience Sinéad's mantra is "living a fulfilling life should never cost the earth". With an energy & a passion she strives to make the intimidating world of climate action accessible to all in her role as design coordinator at the Cool Planet Experience. In her personal life she runs @AGrassrootsAdventure blog. As part of her Grassroots Adventure she got the chance to train with Al Gore as a Climate Reality Leader - to learn from the experts how to solve the climate crisis. 
Deirdre O Shaughnessy (speaker) Corks 96FM Deirdre is editor of Ireland's leading regional radio show, Cork's 96fm Opinion Line. She appears regularly on RTE Today and has featured as a regular guest on Tonight with Vincent Browne. Her interests include sustainability and development and since having her first son in 2016 she has become increasingly aware of environmental issues. She has reported on women's stories in Rwanda, Cambodia, Haiti and Ireland. Find out more at deshocks.com.
EImear Hutchinson (moderator) The Two Darlings Eimear is a Civil Engineer by degree and has a PhD in Agricultural Engineering from NUI, Galway & Teagasc. After her studies she focused on the area of water & wastewater treatment technologies & went on to work in research focusing on sustainable farming systems. Eimear took some time out from work as she knew it to focus on her family. Four small ladies later she now focused her time on them & running her blog which aims to provide parenting & lifestyle tips including ideas on how to be more sustainable around the home.
Dr Celine McInerney (speaker) UCC Dr Celine McInerney is a Senior Lecturer in Finance at UCC. Prior to joining UCC in 2009 she spent twelve years working as a corporate finance advisor. She was a Director of Corporate Finance at Merrion Capital focusing on the energy sector and raised money for several wind farms in her three years at SWS Group. Celine's research is focused on climate finance is funded by the Environmental Protection Agency, Irish Research Council and European Commission.
Ingrid De Doncker (speaker) IDDea Ingrid is a serial entrepreneur in the procurement space. Awarded the SME CEO of the Year 2018 in Ireland, she is CEO of iDDea, a full life-cycle strategic sourcing practitioners firm supporting the private and public sector. She is also founder of PTI, a non-for-profit organisation that promotes procurement innovation and sustainable solutions in collaboration with various EU Initiatives. Ingrid lectures in UCC Procurement Management and she enables best practices in procurement and supply chain in order to achieve Best Value for Money decisions by considering people, planet and profit objectives.
Susan Steele(speaker) Sea Fisheries Protection Agency Susan is head of the Sea Fisheries Protection Agency, but her career path actually began at the age of 3 when, as Jacques Cousteau has described it, 'the sea, once it casts its spell, holds one in its net of wonder for ever'. With the spell cast, Susan decided that she wanted to be a marine biologist, and gained her PhD in University College Cork. As well as having a consuming passion for the sea, Susan is a pilot, a qualified coach, holds two masters qualifications, has seven children and runs ultra-marathons.
Olive Finn (speaker) TWIG Refill Store Olive is founder and co-owner of 2 small independent businesses in Clonakilty, The Olive Branch Healthfood Emporium and Twig-Refill Minimal Waste Store. Born and raised in Clonakilty town she is a passionate advocate of keeping town centre alive and kicking. Olive and her team have been involved in the Wholefoods organic food business for 15yrs and running events to educate the public from issues relating to our impact on the environment and our health. She now proudly offers Twig-Refill Minimal Waste Store to the people of Clonakilty and beyond to motivate her local community to go plastic free.
Michelle O Sullivan (moderator) Cork Chamber Having originally graduated with a Business Degree from UL, Michelle went on to pursue a Masters in Sustainable Development with DIT. She then worked across a range of areas promoting environmental stewardship amongst schools, community groups and businesses. Michelle now works with Cork Chamber in the area of Public Affairs with a focus on sustainable growth and development. She is passionate about making Cork the best place to live, work and enjoy.
Maragret Desmond (speaker) EPA Ireland Margaret is a geographer with over 20 years' experience working at the EU, National & local levels on climate change & sustainability. She is the Senior Climate Services Manager in the Environmental Protection Agency. Margaret is a committee member of the EC Climate Change Committee, Working Group on Adaptation, a participant in the National Adaptation Planning Steering Group. She is a mother to Lilly and Patrick (6-year-old twins), who are developing into committed environmentalists.
Dr Marguerite Nyhan (speaker) UCC Dr. Marguerite Nyhan is a Lecturer in Civil & Environmental Engineering at UCC. Prior to UCC, Marguerite was a Research Scientist at the United Nations in New York, a Scientist at Harvard University and a Post Doctoral Researcher at Massachusetts Institute of Technology. Her interests include environmental engineering, designing healthy and sustainable cities of the future, and humanitarian efforts. She was a Fulbright Scholar at MIT, a TED speaker, and has addressed the UN Environment Assembly in Kenya
Madeleine Murray (speaker & organiser) Change By Degrees Madeleine Murray is an archaeologist, turned entrepreneur and media strategist.  She creates engaging content for consumers and businesses that inspires and mobilises change. She co-founded Plastic Free Kinsale and Change by Degrees with Tara after they met swimming in the sea. When not running around after her four boys she is inhaling books and trying to rationalise not buying a dog. 
Gillian Wall (speaker) Dairy Farmer After graduating as a veterinary surgeon from UCD in 2007, Gillian worked in practice for a number of years before changing to dairy farming in 2010. Sustainable, high welfare dairying has always been the focus and herself and her husband Neil are now on their 10th season milking once a day. Gillian has recently completed a 2 year Graduate Certificate Programme in Dairy Herd Health through UCD School of Veterinary Medicine. Gillian also featured on RTE's Big Week on the Farm last year.
Catherine Sheridan (moderator)Eriva. Catherine Sheridan is a chartered civil engineer and fellow of Engineers Ireland and has worked in local government and national utilities for over twenty years. Catherine combines her engineering experience with her passion for community engagement on large-scale sustainability projects.Catherine shares her sustainability interest with her sons Oscar and Noah, green ambassadors for the Evening Echo. Always looking for a challenge, Catherine is in training for Ironman Cork.
Dr Tara Shine (closing remarks & organiser) Change By Degrees Tara is an environmental scientist with over 20 years' experience working at the global level on climate change and sustainable development.  She is co-founder of the community initiative Plastic Free Kinsale and Director of Change by Degrees, a social enterprise that inspires people to live more sustainably. She presents wildlife documentaries, is just back from her latest adventure in Antarctica and loves swimming in the sea. She is a mother of two and a proud resident if Kinsale
Getting There:
She Is Sustainable will take place in Room G0.5 of the UCC Western Gateway Building on the Western Road. The Western Gateway building is number 81 on the campus map attached, Grid C6. https://www.ucc.ie/en/media/academic/languagecentre/UCC_campus_map_Edition1_2010-new.pdf
Getting there by Car:
UCC has several small car parks on campus, including one at the Western Gateway Building. These cost 2 Euro for the day, payable with 1 or 2 euro coins on exit, but these fill up fast, even on a Saturday. There is street parking on many of the roads near UCC, but it's paid parking, so you will need parking discs.
Getting there by Bike:
There is a coke bike-share bay at Gaol Cross just off the Western Road which is not far from the Western Gateway building.
Getting there by Bus:
The 208 bus stops on Western Road not far from the Western Gateway building.
the 205 bus stops on College Road, which is the South side of the campus so it will be a few minutes extra to walk from the bus stop to the venue, however, this route also serves the bus office on Parnell Place and Kent Train Station.
Keep an eye out on social media for updates on speakers as they are announced.
on twitter @SheIsSustCork
on instagram @SheIsSustainableCork
on facebook @ She Is Sustainable Cork
#SISCork #SheIsSustainable
https://sheissustainable.org/